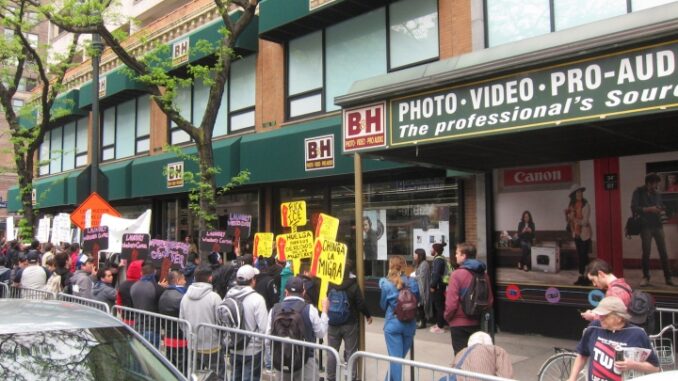 Reprinted from Hyperallergic by Claire Voon on August 16, 2017.
B&H Photo Video has agreed to pay $3,220,000 to settle a discrimination suit filed by the Department of Labor that charged the retail giant with implementing unfair hiring, compensation, and promotion practices at its warehouse in the Brooklyn Navy Yard. The amount, as the department announced yesterday, will be paid in back wages and other monetary relief to over 1,300 affected individuals.
As Hyperallergic previously reported, the department's Office of Federal Contract Compliance Programs (OFCCP) had filed a 33-page complaint in February 2016 that outlined 15 violations of how the workforce at the facility — one of two it owns in Brooklyn — was divided along racial lines. The document accused B&H of exclusively hiring Hispanic men to fill entry-level jobs, thereby discriminating against female and black and Asian jobseekers. It also claimed that Hispanic workers were paid significantly less than white workers with comparable duties and were also denied opportunities for promotions. Additionally, these men allegedly had to use segregated restrooms and were often subject to verbal harassment, including racist comments, which went ignored by management.
As a federal contractor, B&H is expected to comply with certain equal employment opportunity regulations or else risk losing its government contract. As part of the consent decree, the company has agreed to provide its managers with annual training on equal opportunity principles and prevention of workplace harassment. It will also hire a workplace consultant to help correct employment practices and workplace conduct at the Navy Yard warehouse as well as its future warehouse in New Jersey. By 2018, that building is expected to house all workers currently employed at its two Brooklyn warehouses. …