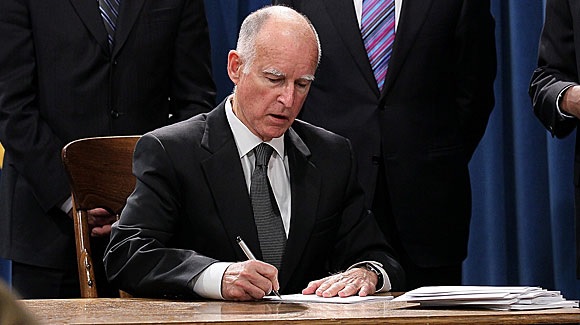 Reprinted from Workers Independent News by JoAnne Powers on September 27, 2016.
California Governor Jerry Brown signed Senate Bill 1241 this weekend, placing limits on agreements requiring workers to waive their rights to challenge employers in the court system. The bill specifically bans arbitration clauses which force California residents out-of-state. Former WeWork employee and now activist Tara Zoumer had to go all the way to New York in order to have her case arbitrated:
[Tara Zoumer]: "Because employees have better rights and stronger rights in California, it is increasingly unfair for me to have to travel to another state that has less favorable laws, or even arbitrators who might not be as familiar with California employment law. It does feel a bit like a Band-aid on a really large open wound, but it is a step in the right direction."
Forced Arbitration agreements often prevent workers from being able to take part in class-action lawsuits over issues such as wage and hour violations, instead bringing the case before an arbitrator hired by the employer.
Workers are often required to sign the agreements as a condition of employment:
[Tara Zoumer]: "That's a moment that's burned into my soul probably for the rest of my life is walking into a conference room where your managers set up just a stack of papers, an empty chair, a pen, and then called people in one at a time to sign over fifty pages of really complex, legally binding documents. And asking them to sign on the spot, telling workers that 'These are all standard documents; you should trust us; we're all just getting on the same page.' And the language is completely glazed over from what you are actually signing. In my case the new agreement that they had was called an 'employee dispute resolution program', which is a very cute name for stripping you of your rights." …