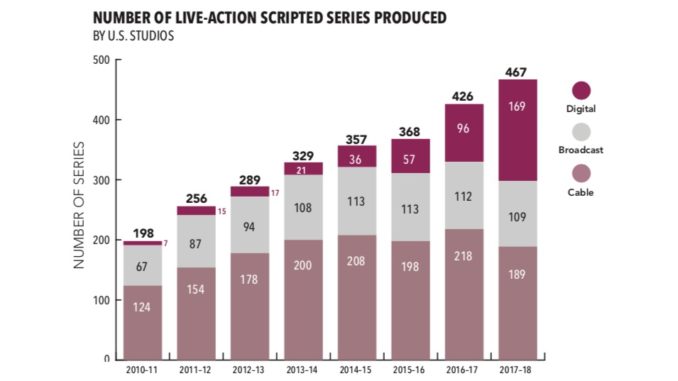 Reprinted from The Hollywood Reporter by Bryn Elise Sandberg on October 16, 2019.
A new FilmLA report is offering a snapshot of the current landscape for television production in Los Angeles.
According to the report, California continues to dominate as the leading destination for new projects on broadcast, cable and digital platforms. For the 2018-19 cycle, 205 of the 465 total tracked series were produced in California, yielding a 44 percent market share for the period.
The California Film & Television Tax Credit Program continues to support local production. According to data shared by the state's film commission, the current crop of incentivized TV series in production sustains thousands of cast and crew jobs and tens of thousands of opportunities for extras.
Overall, new project production is up 23 percent from the 2017-18 season. California remains competitive when it comes to attracting new projects. FilmLA's report reveals during the 2018-19 cycle, 196 new projects were produced (67 broadcast, 53 cable and 76 streaming projects). Of those new projects, 72 — or 37 percent — of all new projects counted filmed in the Golden State (28 one-hour and 44 half-hour).  …