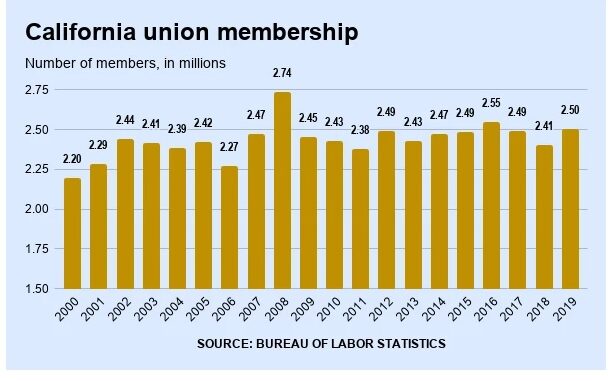 Reprinted from The San Jose Mercury News by Jonathan Lansner on January 29, 2020. 
Organized labor in California had a bounce-back year in 2019, with unions adding 99,000 members — the biggest gain in seven years.
New federal jobs stats on union activity show California membership rebounding off a 14-year low up to 2.5 million last year. That came after unions dropped 146,000 members in the previous two years. It's a far different picture than the rest of the nation where unions lost 269,000 members last year to 12.1 million after gaining 335,000 in 2017-18.
In a nation where unions have suffered declining popularity, California is a unique hotbed. It has more union members than any other state and was home to 17.2% of the 14.6 million US union members last year. That compares with an average 16% share this century.
California's organized labor gained modest momentum as weak wage growth — compounded by shrinking and/or costlier job benefits and falling job security — nudged some workers to sign up. Since 2000, California unions added 309,000 members, a 14% gain. Elsewhere in the US, organized labor lost 2.07 million members, a 15% drop. …