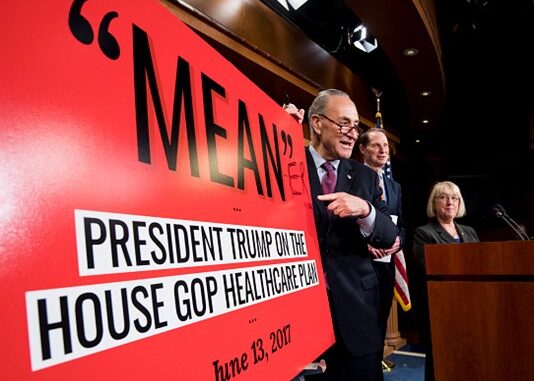 Reprinted from The Washington Post by Amy Goldstein and Kelsey Snell on June 26, 2017.
Senate Republicans' bill to erase major parts of the Affordable Care Act would cause an estimated 22 million more Americans to be uninsured by the end of the coming decade, while reducing federal spending by $321 billion during that time, according to the Congressional Budget Office.
The forecast issued Monday by Congress's nonpartisan budget scorekeepers appeared to rapidly erode Republicans' confidence in the bill, with at least four GOP lawmakers saying by late Monday that they would vote against even starting debate on it.
The projection of uninsured numbers and federal spending had been awaited as a crucial piece of evidence while Majority Leader Mitch McConnell (Kentucky) and other Republican leaders try to hurry a vote on the bill this week. They have been navigating an expanding minefield of resistance from their party'smoderate and conservative wings, while Democrats are united against the measure.
The release of the 49-page CBO ­report late Monday afternoon seemed to worsen the bill's prospects. No new senators immediately said they would back the legislation, and Senators Susan Collins (Maine), Rand Paul (Kentucky) and Ron Johnson (Wisconsin) signaled that they would vote against starting debate Tuesday on the bill in its current form. A fourth senator, Dean Heller (R-Nevada), had expressed his opposition last week. …