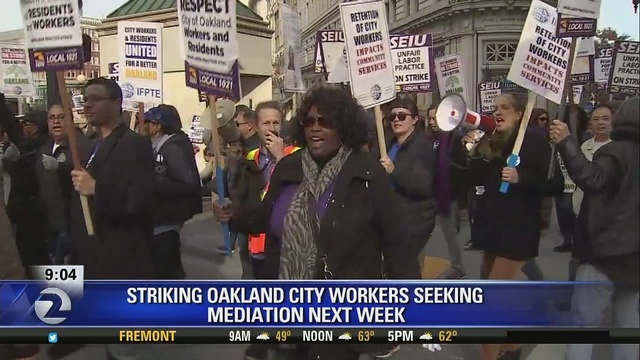 Reprinted from KPIX CBS TV on December 9, 2017. It  is unattributed.
Negotiators for the city of Oakland and the larger of two striking unions have agreed to try to settle the strike in mediation starting Monday, the two sides said Saturday night.
The strike is in its fifth day. City leaders said they expect the strike to continue Sunday, Monday and "until further notice."
"This continued strike is harming our most vulnerable residents," Oakland Mayor Libby Schaaf said in a statement.
Schaaf said, "We will continue to work with SEIU in good faith, and remain responsible and fair to 'both' our workers as well as our residents. We cannot spend money we do not have, particularly as we know our pension costsare escalating at least 49 percent over the next five years."
Chris Flink, spokesman for the Service Employees International Union Local 1021, said, "On Monday we'll see if the city's negotiators are willing to work with the mediator and the striking workers to reach an agreement. The unfair labor practice strike continues."
SEIU Local 1021 represents more than 2,000 of the 3,000 workers on strike since Tuesday.
City employees are also represented by the International Federation of Professional and Technical Engineers Local 21. …