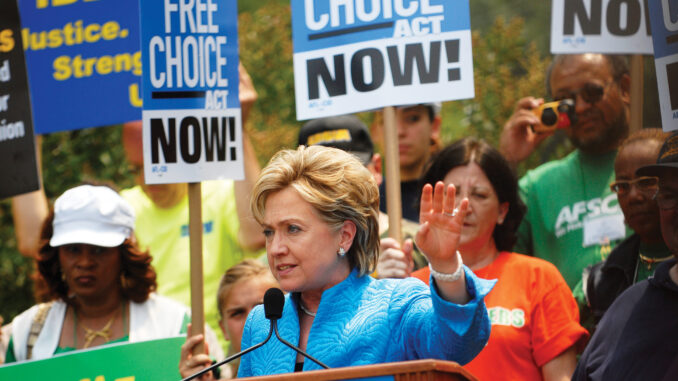 Democratic presidential nominee Hillary Clinton said in late June that if Congress does not close tax loopholes that give significant advantages to the wealthy and corporations, she will have the Treasury Department take up the issue — if she is elected — according to Reuters.
"Let's make sure that Wall Street, corporations and the super-rich pay their fair share of taxes," Clinton said in Raleigh, North Carolina. The former Secretary of State used a campaign stop to offer her vision for bolstering the economy after attacking her rival, Republican nominee Donald Trump, predicting a "Trump recession" if he becomes president.
Trump delivered his own speech attacking Clinton, saying she is part of a political establishment that has cheated American workers through bad trade deals. In her speech, Clinton said, "I think it's an understatement to say Americans face a choice in November. I'm here today to offer an alternative."
Clinton said changing the tax code is part of a five-part plan the federal government would follow to jump-start the American economy if she is elected on November 8. The other parts are:
* Large-scale investment in rebuilding infrastructure to create well-paying jobs
* Enabling debt-free college educations
* Giving companies incentives to share profits with employees
* Creating national family-friendly policies such as paid family leave
In a nod to populists in the Democratic Party who supported US Senator Bernie Sanders (D-VT) during the primary season, Clinton also said she would raise the federal minimum wage, strengthen labor unions and reject international trade deals that do not benefit US workers. This was reinforced when Sanders endorsed Clinton in mid-July.
In 2007 as a senator (D-NY), Clinton was an original co-sponsor of the Employee Free Choice Act, a legal reform that would have made organizing unions easier.
ObamaCare Repeal Would Increase Uninsured
If ObamaCare were repealed, 24 million fewer people would have health insurance in 2021, according to a new study from the Urban Institute, writes Peter Sullivan in The Hill. The study found that 14.5 million fewer people would have coverage through Medicaid or the Children's Health Insurance Program, and 8.8 million fewer people would have individual private coverage like that offered through the Affordable Care Act's (ACA) marketplaces. Another 700,000 fewer people would get health insurance through their jobs.
Repeal would also reduce federal government spending on health care by $927 billion over 10 years, the study found. To make matters worse, the Congressional Budget Office has discovered that despite the lower spending, the deficit would rise because ObamaCare's tax increases and Medicare cuts would also be repealed.
State health spending would also increase by $68.5 billion without the ACA, as states would pick up more of the cost of care for people who wouldn't have insurance.
According to an analysis from the Committee for a Responsible Federal Budget, the healthcare plan put forward by Republican presidential nominee Donald Trump would do little to expand coverage after repealing ObamaCare, and 21 million people would still lose their insurance.
AFM LEFT Singing the Blues Over Paramount Suit
In mid-June, a California federal judge gave Paramount Pictures a victory in a lawsuit brought by the American Federation of Musicians (AFM) over the score to the upcoming film Same Kind of Different as Me, starring Renee Zellweger, writes Eriq Gardner in The Hollywood Reporter. The ruling matters because it explored a grey area of the law — whether studios are joint employers.
In 2015, the AFM claimed that Paramount had breached the terms of its collective bargaining agreement requiring that films produced in North America be scored there. Same Kind of Different as Me was scored in Slovakia.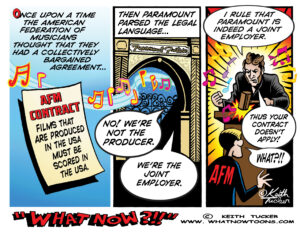 Significantly, the parties disputed what "producer" and "employer" mean under guild agreements. Paramount denied being either and, under its theory, there was no obligation for the film to be scored in North America.
In October 2014, Paramount and a single-purpose entity, SKODAM Films LLC, entered into a co-financing and distribution agreement through which Paramount would put up 40 percent of the film's budget and obtain a fractional interest in the copyright to the movie. Legally, had Paramount "produced" Same Kind of Different as Me?
Paramount argued that the term "produce" meant "shot" in relation to "principal photography," while the union claimed that under the collective bargaining agreement (CBA), anyone financing at least 25 percent of the film is considered a "producer."
US District Judge Dolly Gee ruled against AFM's interpretation, finding it nowhere in the CBA and said that there is "no genuine dispute that the meaning of the word 'produced' in Article 3 [of the relevant CBA] is 'made' or 'shot.'"
"Yet, even under Paramount's 'narrow' definition of 'produced,' the Court finds that AFM provided enough evidence to create disputed issues of fact as to whether Paramount 'made' or 'shot' Same Kind of Different as Me," wrote Judge Gee.
The CBA language in question applies to those "employed by the producer," so the Court clarified who is the "employer." The judge noted that there's nothing in the CBA dealing with this in instances of plural "producers" or "co-producers."
The judge added that "SKODAM Films undisputedly did the bulk of the work making or shooting the motion picture" and Paramount "cannot have breached the CBA because there is no evidence presented that it either directly or indirectly was the joint employer, much less the employer, of the myriad employees working on the production of Same Kind of Different as Me."
The judge dismissed AFM's arguments having to do with Paramount's influence over the film, saying there was no evidence that the studio "had the right to control the day-to-day activities of the motion picture's cast and crew, or that it exercised more than minimal control over the film's shooting."
"The AFM fundamentally disagrees with the analysis that led the district court to grant Paramount's motion and has filed a notice of appeal to the Ninth Circuit Court of Appeals," AFM International President Ray Hair told CineMontage.
Court Rules Against Illegal Arbitration Clauses
A federal appeals court in late May ruled that companies cannot force their employees to sign away their right to band together in legal actions, giving a major victory to American workers, write Jessica Silver-Greenberg and Noam Scheiber in The New York Times.
The United States Court of Appeals for the Seventh Circuit in Chicago struck down an arbitration clause that banned employees from joining together as a class and made workers challenge their employer one-by-one outside of court.
In its ruling, the three-judge panel said that Epic Systems, a Verona, Wisconsin healthcare software provider, violated federal labor law when it required its workers to bring any disputes individually to arbitration, a private system of justice where there is no judge or jury.
"The increasing use of mandatory arbitration agreements and the prohibition on workers proceeding as a class has been one of the most major developments in employment [in] the last decade," said Harvard labor law professor Benjamin Sachs. "Most of the court decisions have facilitated this development. This is a major move in the opposite direction."
Hollywood Guilds Back Bill Limiting Visa Abuse
The International Alliance of Theatrical Stage Employees (IATSE) and the Directors Guild of America (DGA) praised the passage of a bill by the US House of Representatives that would help curb the number of unqualified foreign movie and TV crewmembers approved for US visas, writes Yvonne Villarreal in The Los Angeles Times.
The Oversee Visa Integrity with Stakeholder Advisories bill approved in mid-June by a voice vote would require the Department of Homeland Security to notify Hollywood unions and producers of approvals or denials of the so-called "O visas" for foreign crew members and directors seeking to work on films and TV series shot in the US.
The program, established in 1990, requires that the US Citizenship and Immigration Services consult with appropriate organizations — including IATSE, the DGA and the Association of Motion Picture and Television Producers — regarding the validity of applicants in their areas.
Yet for years, the guilds have complained that they are not adequately consulted and that applicants aren't properly evaluated. The new bill would require the Secretary of Homeland Security to provide copies of the Citizenship and Immigration Services' "O visa" application decisions. The bill, introduced by Representatives Mimi Walters (R-Irvine) and Jerrold Nadler (D-New York), moves to the Senate.
Coverage of Fishing Slavery Wins APME Award
An investigation into widespread labor abuses in Southeast Asia's fishing industry won top honors for enterprise reporting in 2016's Associated Press Media Editors Awards for Journalism Excellence by AP staffers.
The "Seafood from Slaves" series by Martha Mendoza, Robin McDowell, Esther Htusan and Margie Mason led to the release of more than 2,000 slaves and exposed how slave-caught seafood made its way to US grocers and pet food providers.
"The journalists, often facing danger, told compelling stories through beautifully crafted words, stunning photos and powerful video of caged and enslaved workers — and ultimately their homecoming," judges said. "They brought the issue to America's dinner table to show how illegal labor practices touch us all."
Overtime Eligibility Expanded for Millions
The Obama administration, in a far-reaching effort to improve the lot of workers, announced in mid-May that it was making millions more employees eligible for overtime pay, writes Noam Scheiber in The New York Times.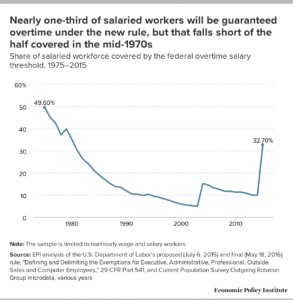 Under the new regulations issued by the Labor Department, most salaried workers earning up to $47,476 a year must receive time-and-a-half overtime pay when they work more than 40 hours during a week. The previous ceiling for overtime pay, set in 2004, was $23,660. The Labor Department calculates that 4.2 million additional workers will now become eligible for overtime. Other estimates put the number of newly eligible workers much higher.
"This is a big deal to be able to help that many working people without Congress having to pass a new law," said Ross Eisenbrey of the Economic Policy Institute. "It's really restoring rights that people had for decades and lost."
"The middle class is getting clobbered," US Vice President Joseph Biden told reporters. "If you work overtime, you should actually get paid for working overtime.
"For the past 40 years, overtime protections have been increasingly weakened," Biden added, saying that based on their salaries, more than 60 percent of salaried workers qualified for overtime in 1975, but only seven percent do now.
The change will take effect in a variety of ways. Once the rule goes into effect on December 1, many workers will receive more pay when they work overtime, but others may end up working fewer hours so employers can avoid paying them more.