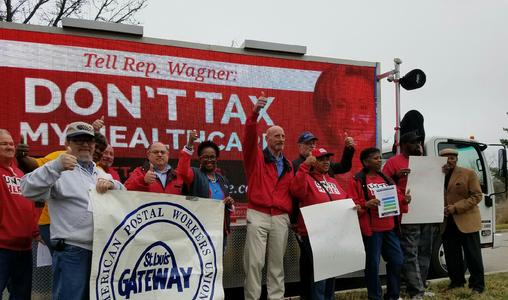 Reprinted from the AFL-CIO's blog Now by Shaun O'Brien on February 23, 2017.
Do you get your health care coverage through work? If you do, it's time to start paying attention to what's going on in Washington. Especially to the new plan to tax our health benefits.
You say you haven't heard of a plan to tax our health benefits? That may be because Republican leaders in Congress are doing their best to keep it under wraps. They mostly have kept talk about it out of the public, but a few people have revealed to reporters what is being discussed.
Late last week, Republican leaders met behind closed doors with Republicans in the House of Representatives to go over the big health care changes they are considering. The Associated Press reported that taxing working people's health benefits was being pushed by House Speaker Paul Ryan and other leaders in that meeting. The AP noted:
"Obama's law levied $1.1 trillion in taxes over a decade to finance its expanded coverage to millions. GOP leaders said some or all of those taxes could be repealed, with the revenue replaced by a new tax on health care that employees receive at work." …