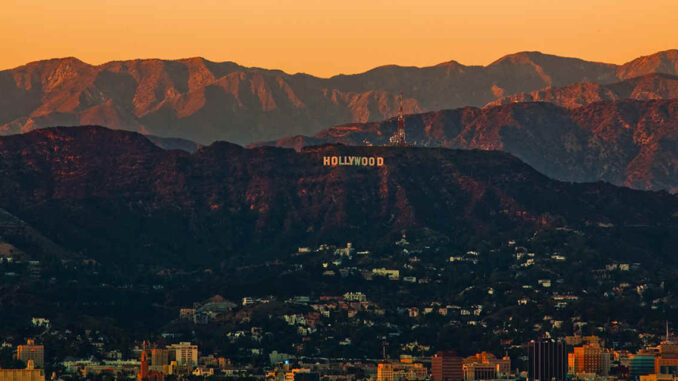 Reprinted from Deadline Hollywood by Anthony D'Alessandro on March 11, 2020.
Deadline Hollywood has received word that Tom Hanks and Rita Wilson have tested positive for the coronavirus. Both have been down in Australia for the pre-production of Baz Luhrmann's untitled Elvis Presley film from Warner Brothers. The two-time Oscar winner Hanks is set to play Presley's longtime manager Colonel Tom Parker in the project.
Warner Brothers was notified that someone in the production had been diagnosed with coronavirus, the studio said in a statement to Deadline, adding that the person is receiving treatment and that "we are working closely with the appropriate Australian health agencies to identify and contact anyone who may have come in direct contact with the individual."
Deadline received a statement directly from Hanks:
"Hello, folks.  Rita and I are down here in Australia.   We felt a bit tired, like we had colds, and some body aches.   Rita had some chills that came and went. Slight fevers too.  To play things right, as is needed in the world right now,  we were tested for the Coronavirus, and were found to be positive. …
California Governor Gavin Newsom Calls for Moratorium on Large Gatherings to Battle Coronavirus; Here is What It Would Mean for Hollywood
Reprinted from Deadline Hollywood by Nellie Andreeva on March 12, 2020.
Citing California public health officials, Governor Gavin Newsom Wednesday night said that gatherings of more than 250 people should be postponed or canceled across the state until at least the end of March. That effectively would ground any Hollywood film and TV premieres, festivals, larger screenings and Emmy campaign events and would temporarily halt the use of live audiences in show tapings, including primetime sitcoms.
All New York-based late-night shows on Wednesday announced that they were not going to employ studio audience starting Monday, citing similar guidance on public gatherings from New York City officials. The major Los Angeles-based late-night shows, Jimmy Kimmel Live, Late Late Show with James Corden, A Little Late with Lilly Singh and Real Time with Bill Maher, have not moved in to remove audiences. (Most of the top LA-based daytime shows, led by Ellen and Dr. Phil, already are going temporarily audience-free.)
Sony Pictures Latest Studio to OK Working from Home; Lot, Office Still Open
Reprinted from Deadline Hollywood by Patrick Hipes on March 12, 2020.
Sony Pictures Entertainment chairman and CEO Tony Vinciquerra told employees Thursday that they are free to work remotely as the coronavirus virus spreads. He said in a memo to staff that the Culver City lot and offices remain open.
Companies all over the country are transitioning to work-from-home models, with studios among the entertainment and media companies also having to figure out their production plans — several shows with live audiences, for example, have shut down altogether during the outbreak. On site and on location filming has also been postponed or scaled back.
'If your role does not lend itself to working from home – for example, if you are in production or if your role requires you to be physically at work – then you should discuss this with your manager," Vinciquerra said in his memo (read it in full below). "We are aware that family demands are becoming more complicated as this crisis unfolds, so we want you to have flexibility." …
Television Academy Suspends FYC Live Audiences Amid Coronavirus Outbreak
Reprinted from The Hollywood Reporter by Sharareh Drury on March 12, 2020.
The Television Academy has suspended all For Your Consideration (FYC) events with a live audience amid concerns over the new coronavirus outbreak.
The Academy released a statement Thursday noting the decision was based on recommendations from the California Department of Public Health and the New York Department of Health regarding COVID-19.
Moving forward, FYC events that had live audiences will be livestreamed or recorded without an audience. "This requirement is being implemented for the safety and health of ALL participants and is in effect for ALL Emmy For Your Consideration Events (throughout the country) during the entire FYC season (through June 14, 2020)," a statement from the Academy noted. …
Crewmember on Fox's 'neXt' Tests Positive for Coronavirus
Reprinted from The Hollywood Reporter by Jonathan Handel on March 10, 2020.
Fox and Disney on Tuesday notified cast and crew that a production member for the show neXt, which just wrapped production at Cinespace in Chicago, has tested positive for the coronavirus (COVID-19), the performers union SAG-AFTRA said in a statement. A report in the Chicago Tribune identified the person as a woman in her 50s who had traveled from California to Chicago.
According to the union, "that person came into contact with other cast and crew at Cinespace and possibly elsewhere. We are working with the production company regarding this matter to determine the timeline and scope of potential exposure to members and others. We are monitoring the situation closely and will update our statement periodically as warranted."
The Tribune reports that Cinespace Chicago Film Studios is also home to NBC's Chicago Fire, Chicago Med and Chicago P.D., and that production on neXt wrapped last week, with the show, an AI crime drama starring John Slattery (Mad Men), expected to premiere in May. …