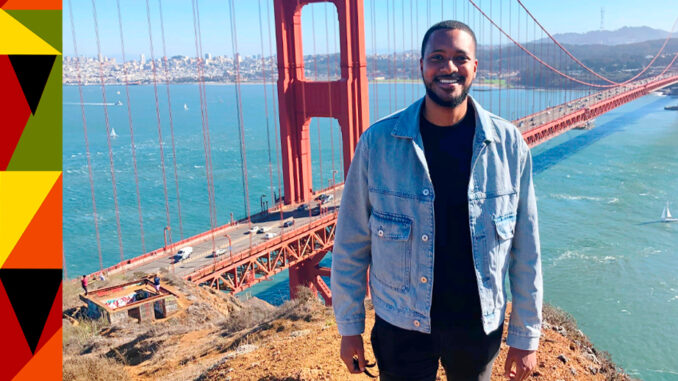 For each day in the month of February, the African American Steering Committee will be highlighting Local 700's African American members, both past and present, and their accomplishments. We look forward to showing the contributions and influences African Americans have had on the industry.
---
Name: Dawit Zemene
What's your job/classification? Assistant Supervising Sound Editor at Skywalker Sound.
List the credits you're most proud of. I was very happy to be a part of "Luck" (Skydance Animation/Apple TV+) and "Hawkeye" (Marvel Studios/Disney+).
What are you working on right now? I am currently working on a Disney animated streaming project which I am really excited for!
Who and what are your influences and/or mentors? I have many mentors in my life, including my family who always push me to strive for the best and to never give up. I'm most thankful to call André Fenley a great professional mentor of mine.
What books are you reading, shows are you watching and/or movies you're excited about? I am currently watching "Bad Batch" on Disney + as well as reading "The Mountain is You" by Brianna Wiest.
What would be your superhero name? I had to take an online quiz to figure this one out and it gave me "Brain man" which I honestly quite like!
What are your black history month memories? What cultural or historical events have impacted your life? I'd say the most important memories growing up were that my parents taught me not only to celebrate black history month in February, but everyday throughout the year. This allowed me to read more and understand those experiences outside of school regarding black history to formulate my own perspective and feelings.
What's the best piece of advice you've been given? To learn something new everyday and to always be curious. I'd say this applies to both outside life and in my career as a Sound Editor, since curiosity can breed new ideas/motivation and new perspectives.
If you could time travel, when would you go and why? I would go into the future 1000 years from now to see how far humanity would have progressed (or regressed hah!), my curiosity wouldn't let me rest.
What's a little known fact about you? What are your hidden (or not so hidden) talents? I am a first generation Ethiopian-American and I used to play the violin for over 5 years when I was younger!
What's your favorite (Black) television/movie moment? The entirety of the movie "Black Panther." It was such an important feeling/period getting to experience excellence and talent within our community!
Was there a television show/movie that inspired you to pursue your career? I really can't pinpoint what show/movie gave me inspiration to pursue my career, since so many were inspirational to me and allowed me to be curious and ask questions about filmmaking, especially sound for films in particular.
What's your personal/professional mantra? "How you do anything is how you do everything" and "Persistence creates luck".
What's the last show/movie that left you speechless? "Chernobyl" on HBO! It left me speechless how well radiation sickness was depicted in the show, the sound design was also fantastic!
What would be your dream project to work on? I've always been a "Star Wars" fan since I was kid, so being able to work on a "Star Wars" project would be a dream come true!