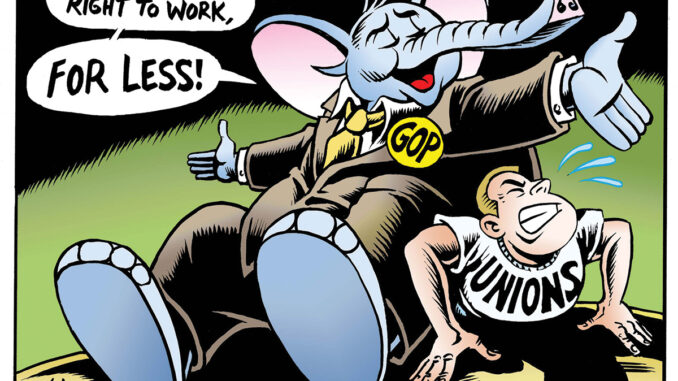 compiled by Jeff Burman
Controversial congressman Steve King (R-IA) surprised many in March by stating racist, white nationalist views, tweeting, "We can't restore our civilization with somebody else's babies."
King is also the author of a federal bill, HR785, that would impose a "right to work" law nationally, which would harm our country's economy and would hit workers squarely in their paychecks, writes Steve Smith in the AFL-CIO's blog Now.
According to the Economic Policy Institute, wages in "right to work" states are 3.2 percent lower than in non-"right to work" states. Health insurance and retirement benefits are less likely to be offered by employers. "Right to work" restrictions make it more difficult for working people to stand together in a union to demand fair wages and decent benefits for a hard day's work. The history behind these laws is even darker.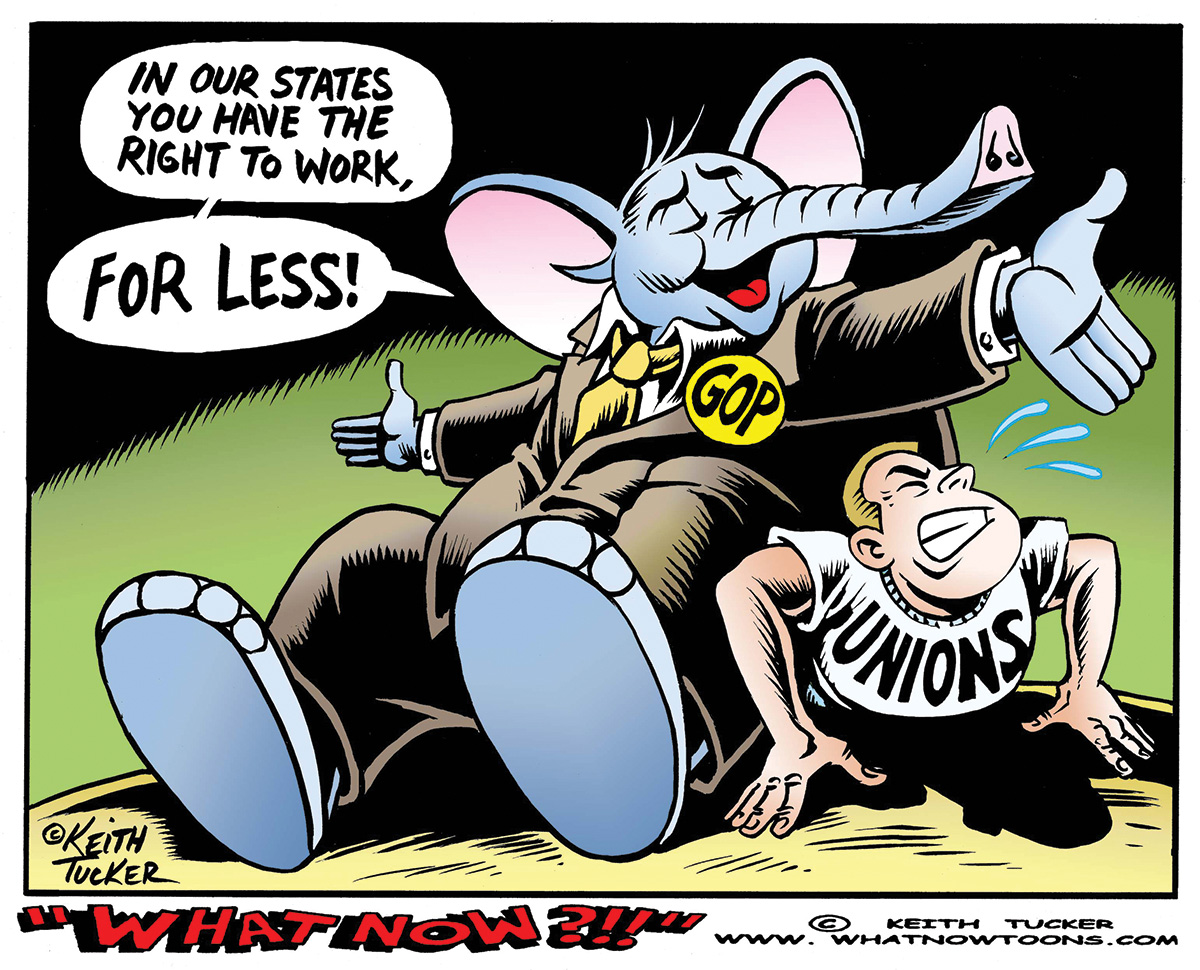 Similar attacks on labor unions have roots in white supremacism, adds Smith.
"'Right to work' laws originated as [a] means to maintain Jim Crow labor relations and to beat back what was seen as a Jewish cabal to foment a revolution," University of Arkansas Associate Professor Michael Pierce explains. "No one was more important in placing 'right to work' on the conservatives' political agenda than Vance Muse of the Christian American Association, a larger-than-life Texan whose own grandson described him as 'a white supremacist, an anti-Semite and a Communist-baiter, a man who beat on labor unions not on behalf of working people, as he said, but because he was paid to do so.'"
Which brings us right back to King. Supporting national "right to work" is no different than supporting King's racist worldview, adds Smith.
WGA Approves New Deal with Producers
On May 24, members of the Writers Guild of America voted to accept their new contract with the Alliance of Motion Picture and Television Producers. They agreed to a package of improved contract terms, including an increase in employer contributions to the writers' health plan by more than $85 million over three years. The writers described new "gains on the issue of short seasons in television, winning a definition…of 2.4 weeks of work for each episodic fee. Any work beyond that span will now require additional payment." Writers also won "a 15 percent increase in Pay TV residuals, roughly $15 million in increases in high-budget SVOD residuals, and…residuals for comedy-variety writers in Pay TV. And, also…job protection on Parental Leave."
The writers described new "gains on the issue of short seasons in television, winning a definition…of 2.4 weeks of work for each episodic fee. Any work beyond that span will now require additional payment."
Earlier, the Writers Guild had called on employers to agree to $156 million annually in pay increases to meet its original proposal. The guild said the six major signatories to the previous agreement had posted approximately $50 billion in operating profits in 2016.
SAG-AFTRA began its negotiations with the AMPTP in late May.
US Women's Hockey Team Scores Better Pay
Team Captain Meghan Duggan understood the risk, writes Seth Berkman in The New York Times. Her 22 teammates on the United States women's national hockey team did too. They put their careers on the line when they announced March 15 that they would boycott the coming world championship if USA Hockey, the sport's national governing body, did not increase wages and development support for the women.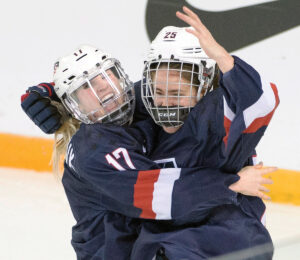 Their courage and unity paid off two weeks later when the women's team reached an agreement with USA Hockey and ended the standoff. The four-year deal includes the formation of a Women's High Performance Advisory Group to develop girls' hockey at youth levels.
Until the deal was struck, USA Hockey only paid them for the six months leading up to the Olympics, and that was only $6,000, writes Craig Custance for ESPN. By the final year of the four-year agreement, $950,000 will be set aside in a compensation pool for the players.
The women's hockey players got support from a wide range of professional athletes and players' unions — not only from the National Hockey League but also the NBA, the WNBA, the NFL, Major League Baseball and the United States women's soccer team. Twenty US senators wrote a letter to USA Hockey supporting the players.
Many of the men's national team refused to play at the same tournament if the women's wages were not increased. The men's side is largely made up of NHL players who make seven-figure salaries and do not get financial or training support from USA Hockey. The NHL also provides $9 million a year to USA Hockey, much of which goes to the National Team Development Program for top boys who are under the age of 18.
Many female players approached by USA Hockey to be potential replacements responded publically by tweeting "I said no to USAH & will not play in the 2017WC," followed by #BeBoldForChange, the hashtag members of the boycotting US Women's National Hockey Team used.
Telemundo Actors Vote to Join SAG-AFTRA
Actors at the Spanish-language TV network Telemundo have overwhelmingly voted to unionize with SAG-AFTRA in early March, ending a long dispute between Hollywood's largest union and NBCUniversal, which owns the network, writes David Ng in The Los Angeles Times. Miami-based Telemundo, which was bought by NBCUniversal in 2001, is the single biggest employer of Spanish-language performers in the US.
In the past, SAG-AFTRA has said that Telemundo pays its actors half of what English-language actors earn on other NBCUniversal-owned networks, and that Telemundo doesn't provide its telenovela actors with health care, contribute to their pensions or pay overtime. NBCUniversal agreed that Telemundo would start offering health-care and retirement benefits to performers starting in 2017, but declined to elaborate.
In early April, SAG-AFTRA won the support of the Latin American sector of the International Federation of Actors, in case Telemundo decides to undermine unionization efforts. "FIA-LA's statement of support includes a unanimous declaration that the unions and their members will not permit Telemundo to move productions to their countries if the network carries out its threatened retaliation as a result of the recent historic unionization vote," according to SAG-AFTRA, as published in Deadline Hollywood.
SAG-AFTRA began its organizing drive with NBCUniversal about 15 years ago, arguing that the company uses a double standard by letting its English-language performers unionize while refusing the same right to Spanish-speaking actors.
Trump Picks Net Neutrality Foe to Chair FCC
In January, Ajit Pai was appointed to the post of Federal Communications Commission chairman by President Donald Trump, succeeding Tom Wheeler, writes Ted Johnson in Variety.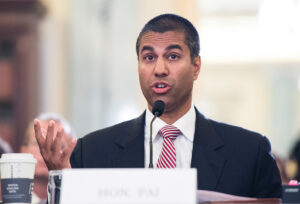 Pai, 44, who has been an FCC commissioner since 2012, will not have to face a Senate confirmation this year. But when his term expires at the end of the year, the president will have to renominate him and Pai will face confirmation then.
A critic of the FCC's approach to net neutrality rules, Pai said in a speech in December that Trump's election was an "inflection point" that would allow the commission to "shift from playing defense at the FCC to going on offense."
Pai and current commissioner Michael O'Rielly openly dissented on some of the most contentious issues before the FCC, including net neutrality, broadband privacy rules and media ownership. Pai could begin to roll back some of Wheeler's agenda, but in some cases he will still have to go through a public review process.
In a speech in December, Pai signaled that he would look to reverse regulatory moves. "We need to fire up the weed whacker and remove those rules that are holding back investment, innovation and job creation," he said.
The Secret to Saving America's Unions
Labor unions in America have come to a critical juncture, writes Dylan Matthews in Vox. In the mid-1950s, a third of Americans were union members. Today, less than 11 percent are, including 6.4 percent of private sector workers. The long decline of union membership explains a large part of the increase in inequality in the US, caused voter turnout among low-income workers to collapse and weakened organized labor's ability to push back against corporate influence in Washington.
European unions, and some other unions around the world, have found a brilliant alternative strategy.
"In 2016, we had the most pro-labor president since the 1960s, the most pro-labor secretary of labor since [FDR's Secretary] Frances Perkins, an economy with shrinking unemployment and rising wages — and yet we lost a quarter-million union members in the United States," says David Rolf, president of SEIU Local 775, a union representing home-care workers in Washington and Montana. "We need to be trying everything."
Rolf and others have come to believe that the solution is to look to strategies that work in Europe. Most European countries have far greater levels of union coverage than we do in the US. As of 2013, more than two-thirds of workers in Denmark, Sweden and Finland were union members. In France and Austria, while workers in unions are a minority, significantly, 98 percent are covered by collective bargaining agreements.
European unions, and some other unions around the world, have found a brilliant alternative strategy. These unions bargain not at the company level but at the sector level — negotiating for every worker in an entire industry rather than just one company or one workplace.
By using this strategy, every company, no matter how many of its employees are in a union, gets the same pay and benefit deal. And by using this strategy, companies have less incentive to discourage union membership.
Drug Price Transparency Urged in CA
California Democrats, labor unions, health insurers and consumer advocacy groups are offering legislation to shed more light — and more leverage — over prescription drug prices, writes Melanie Mason in The Los Angeles Times.
State Senator Ed Hernandez (D-West Covina) offered his new bill at a Capitol news conference in mid-March. He said the legislation would reduce the "arms race of profit generation" by the pharmaceutical industry by requiring manufacturers to give 90 days' notice to purchasers before significantly increasing a drug's price.
The proposal, SB 17, also would require health plans to release data on drug purchasing trends, especially the most prescribed and most expensive medications.
Since introducing a similar bill last year, "over 20 states across the nation have been following suit, and the industry has started to restrain [itself] to avoid public scorn," Hernandez said. "Transparency works, and that's why drugmakers will fight this bill."
Caitlin Vega of the California Labor Federation, a bill co-sponsor, said the group's members "will fill the halls of the Capitol to tell their stories and to explain why this bill is so important."
'Midnight Rider' Loses Safety Violations Appeal
Production company Film Allman LLC lost a third appeal to remove a "willful safety violation" and a fine imposed by the Occupational Health and Safety Commission for the company's actions on the set of Midnight Rider, writes Anita Busch in Deadline Hollywood. The actions led to the death of camera assistant Sarah Jones and the serious injury of several others. The 11th Circuit Court of Appeals ruled in March that the "willful safety violation" against Film Allman will stand, and that it must pay a $70,000 fine.
The actions led to the death of camera assistant Sarah Jones and the serious injury of several others.
Film Allman LLC was set up by writer/producer/director Randall Miller and his wife/producer Jody Savin to film the Gregg Allman biopic Midnight Rider. Jones was killed and others injured on the set during the first day of shooting on February 20, 2014. The set consisted of a railroad bridge over the Altamaha River in Jesup, Georgia. Injured crewmembers were struck by a freight train.
In March, the court wrote, "Film Allman and its supervisors on the set that day failed at every opportunity to ensure the safety of its employees: Film Allman knew the railroad tracks were live tracks, in active use by CSX and that CSX had refused permission to film on the tracks… In short, Film Allman put its employees in harm's way, and the results were catastrophic."
Miller, executive producer/unit production manager Jay Sedrish and first assistant director Hillary Schwartz all pleaded guilty to felony involuntary manslaughter and criminal trespassing in Georgia two years ago. Miller served time in jail in Georgia. Sedrish and Schwartz received 10 years probation.