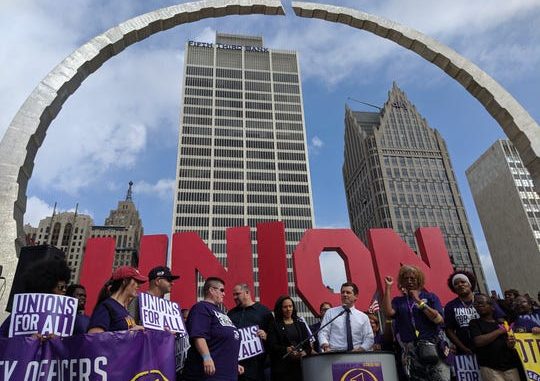 Reprinted from The Detroit News by Jonathan Oosting on August 12, 2019.
Top Democrats competing for the party's presidential nomination are courting union voters with plans to boost bargaining rights and eliminate so-called right-to-work laws adopted in Michigan and other states.
South Bend Mayor Pete Buttigieg's "new rising tide" proposal calls for an end to right-to-works laws and endorses legislation that would allow employment contracts requiring workers to pay bargaining fees to unions even if they are not members.
Right-to-work laws make "states look good in CEO surveys, but quality of life actually goes down," Buttigieg argued two weeks ago in Detroit, where he marched with union members downtown after participating in the second Democratic presidential debate. …
US Senator Bernie Sanders, who won Michigan's Democratic primary in 2016, is lead sponsor on legislation that would preempt "right-to-work for less laws." Co-sponsors include fellow presidential hopeful US Senators Elizabeth Warren of Massachusetts, Kamala Harris of California, Kirsten Gillibrand of New York and Cory Booker of New Jersey.
Sanders' proposal would also make it easier for workers to form unions by allowing the National Labor Relations Board to certify a bargaining unit if a majority of eligible workers sign authorization cards. And it would require companies to begin negotiating within 10 days after union certification. …