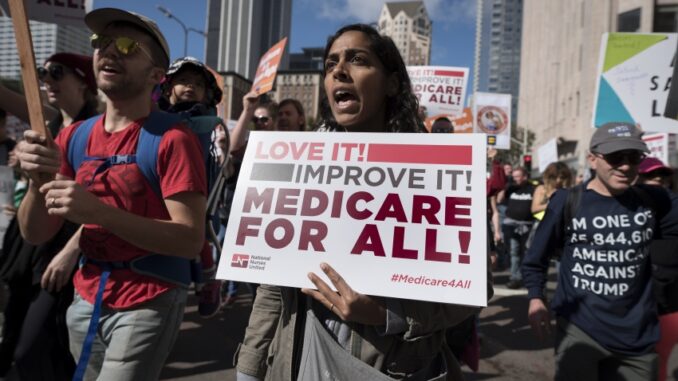 Reprinted from In These Times by Miles Kampf-Lassin on March 27, 2017.
"The failure of Trumpcare to pass the House on Friday was a devastating defeat for both the nascent administration and the GOP," writes Miles Kampf-Lassin in In These Times. "For seven years, Republicans railed against Obamacare, promising to 'repeal and replace' the law as soon as they could. Trump himself pledged to do so repeatedly on the campaign trail and from the Oval Office.
"Yet despite controlling both houses of Congress and the presidency, Republicans could not get a bill through their own caucus in the House. Speaker Paul Ryan, one of the bill's architects, admitted, 'This was a disappointing day for us.'
"Democrats understandably responded with glee. However, besides Bernie Sanders, their side of the aisle offered little in the way of a counter proposal for how to address the very real problems with Obamacare.
"Trump and Ryan correctly predict that the issues with the current healthcare system—from rising premiums to insurers pulling out of exchanges—are only going to get worse over the coming months and years.
"Part of the reason is that Republicans will do everything in their power to make sure these problems intensify. Health Secretary Tom Price, a longtime opponent of Obamacare, has considerable leverage to disrupt the already fragile system set up by the Affordable Care Act.
"But the fundamental failures of Obamacare stem from the law's reliance on the private market. Why are insurance companies such as Humana and Aetna fleeing the exchanges? Why are premiums spiking for many middle-class Americans? Because private companies are responding to the logic of capital: Maximize profits while reducing costs. …