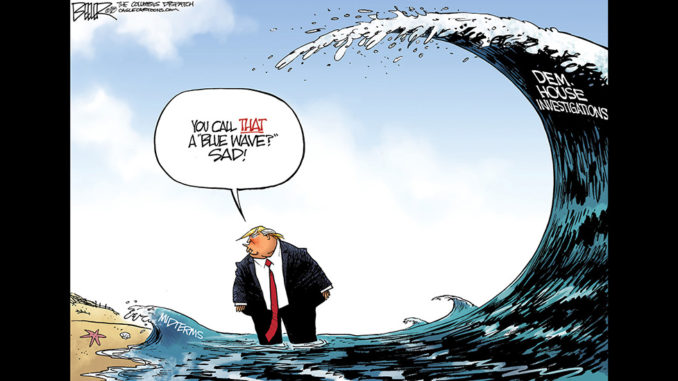 compiled by Jeff Burman
Everyone saw it coming. Democrats, according to The Washington Post, "leveraged fury with President Trump" and won a majority in the House of Representatives in the November midterm elections. Of the 435 House seats, Democrats won 233, surpassing the 218 they needed to secure a majority. At press time, three seats were still too close to call. 
Voter participation was massive. More than 47 percent of eligible voters turned out, according to Camila Domonoske of National Public Radio. That surpasses voter turnout in the 1974 midterm elections after the Watergate scandal and represents the highest midterm turnout since 1966, when 49 percent of the population showed up to vote.
A majority in the House of Representatives means that Democrats will set the body's legislative agenda and its members will take over as chairs of House Committees. Nancy Pelosi (D-CA) will be Speaker of the House. Donald Trump will now be held accountable.
Democrats also gained seven seats in governors races, giving them control of 23 statehouses to Republicans' 27. Overall, the party won 50 percent of the vote, while Republicans won 48 percent. Democratic governors will help avoid Republican gerrymandering in the 2020 census redistricting. 
Pundits referred to a "repudiation" and "renunciation" of the Trump agenda. Many activists and Trump "resisters" participated in significant increases in voter turnout and elected a record number of women. According to the Associated Press, some 237 women ran for office and at least 100 were elected to House seats. 
Many considered the midterms a "split verdict." Democrats won a greater number of popular votes in national Senate tallies but ultimately lost ground. According to Aaron Blake in The Washington Post, Democrats won 59 percent of the Senate vote, while Republicans won 40 percent. Arguably, this is due to population disparities between states. After a runoff election in Mississippi on November 27 won by the Republican candidate, that party had flipped four Senate seats, giving them control of the body with 53 (two more than the amount they had before the election), while Democrats flipped two seats but now only hold 47. 
Organized labor campaigned widely for progressive Democrats, having loudly opposed restrictive appointments to the National Labor Relations Board, and the nomination and confirmation of Brett Kavanaugh to the Supreme Court, but showed interest in better terms in international trade agreements. Ultimately, Trump's inflammatory rhetoric and contempt for civil debate left organized labor opposed to his agenda of fear and division. The Democrats' emphasis on health care and, more specifically, "pre-existing conditions," turned out to be more important to voters.
In response to the election results, IATSE President Matt Loeb said in a statement, "This election marks an important beginning to our efforts to return power to the working families of this country, and we will not rest until every IATSE member is represented by people who understand the value of our work and of workers' rights."
For his part, AFL-CIO president Richard Trumka was delighted that Wisconsin Governor Scott Walker was narrowly defeated by Democrat Tony Evers, a school superintendent. The race was so close that the incumbent governor initially refused to concede. Organized labor considered Walker to be "a polarizing figure who already survived an acrimonious recall challenge in 2012," according to Annie Gowan in The Washington Post. Walker "all but banned collective bargaining for public sector workers, banned dues deduction and forced unions to recertify every year," adds Samantha Winslow in Labor Notes. Under Walker's lead, the state went "right to work" in both public and private sectors, and union membership tumbled to 40 percent.
In 2015, when Walker had announced his presidential candidacy, Trumka's news release was short and to the point: "Scott Walker is a national disgrace." When Walker dropped out of the race several months later, Trumka amended his original statement, saying, "Scott Walker is still a disgrace, just no longer national."
On the day after the midterm elections, Trumka trotted out a similarly terse statement of contempt: "Scott Walker was a national disgrace."
Teamsters Tout New UPS Contract, But Majority Votes Against It 
In early October, the Teamsters union announced that a new five-year nationwide contract at United Parcel Service (UPS) had been ratified, covering 209,403 drivers, sorters and others, but there's a hitch. The agreement was rejected by a majority of the 92,604 members who voted on it, according to several news sources, including Fortune and The Atlanta Journal Constitution.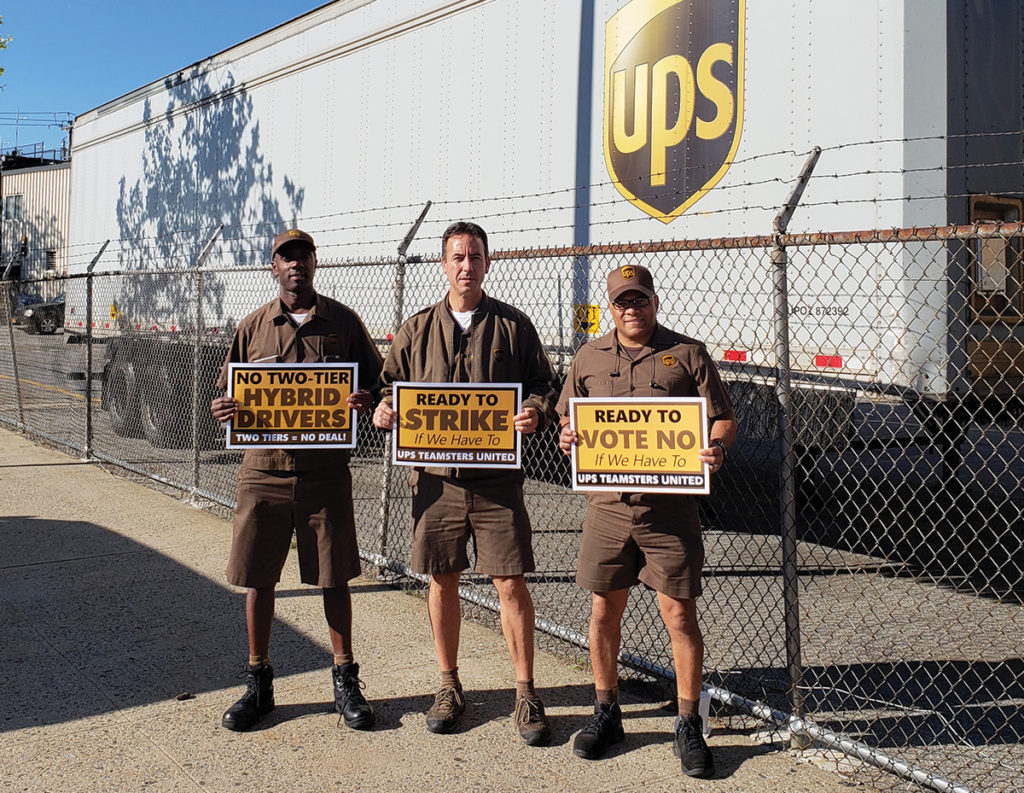 Teamsters at United Parcel Service voted by 54 percent to reject the company's offer, but only 44 percent of the unit's union members cast ballots. Under a provision in the International Brotherhood of Teamsters constitution, it takes a two-thirds majority to reject a contract if less than a majority of bargaining unit members cast votes.
The new agreement raises wages by $4.15 over five years, and increases starting pay for part-time workers from $10 to $13 an hour. But it also sets up a two-tier system in which lower-paid full-time drivers would do weekend deliveries. Currently, full-time drivers earn over $36 an hour, and earn double time for work on Sundays. 
"The fact that they're moving to ratify the contract over a 'No' vote is a huge betrayal to the members," said David Levin with Teamsters for a Democratic Union, which has more than 10,000 members nationally. "There are a lot of attacks against the labor movement and it's a terrible time to be sending workers the message that union leaders can just ignore and override the voices of the members." 
Teamsters Ratify New Hollywood Contract
In other Teamsters news, on October 1 the union's Local 399 ratified its "Black Book" contract covering drivers and animal handlers, as well as four basic craft unions — IBEW Local 40 (electricians), Studio Plumbers Local 78, Studio Utility Employees Local 724 and Studio Plasterers Local 755 — with a "Yes" vote of 73 percent, according to the union's secretary-treasurer Steve Dayan as reported in The Hollywood Reporter by Jonathan Handel. Terms of the deal have not yet been released.
The ratification percentage may have been influenced by opposition to a similar IATSE deal, writes Handel. The Teamsters contract was voted on during the same time the IA contract was debated by its membership. The IA contract was ratified later in October. Dayan said that the use of online voting, done for the first time ever, had led to greater participation. "More people voted," he said. "It was a seamless process and 15 percent more voted than last time."
Amazon Grants Raises But Denies Workers' Rights
In October, Sharan Burrow, International Trade Union Confederation General Secretary, wrote, "Amazon is a top-predator in the corporate greed stakes, and treats the men and women who work for it with no respect. From Jeff Bezos at the top, down to middle management, the company uses every trick in the book to stop its workers from organizing into unions to improve working conditions and bargain collectively for decent conditions and pay that reflects the full value of the work they do.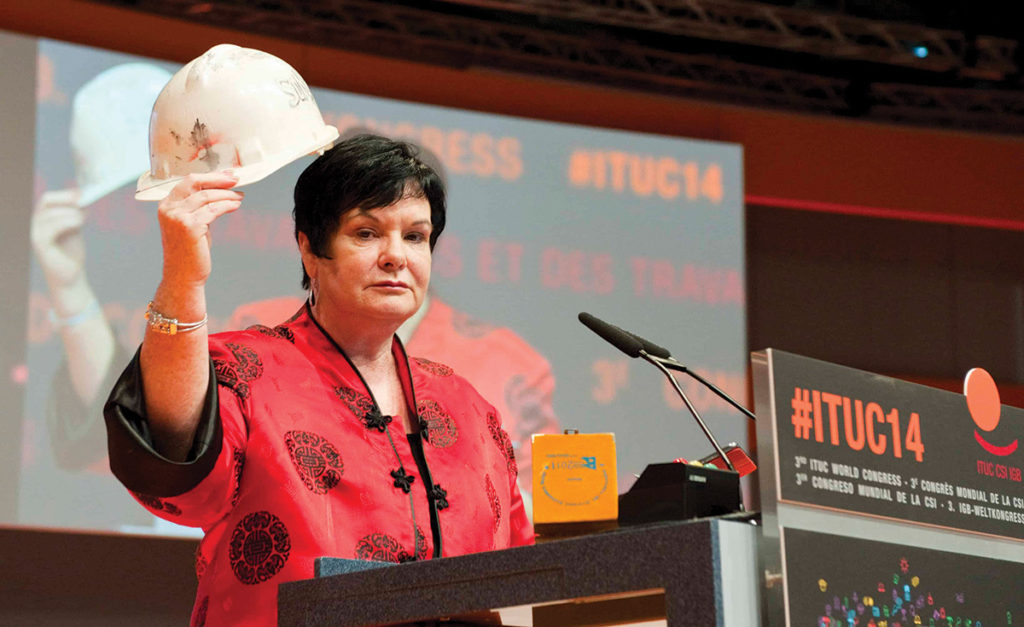 "Amazon has an appalling record on workers' health and safety, and imposes work practices on them that would have been unacceptable 100 years ago, let alone today. Trade unions will keep up the pressure on this company until it changes its feudal corporate culture."
While Amazon has announced wage increases for its US and UK workers, unions are calling for increases for its entire global workforce.
Netflix to Open US Production Hub in Albuquerque
Netflix has big plans for production. The company announced in October it will site its new production hub in Albuquerque, New Mexico, which will bring in as much as $1 billion in production money over the next decade, and up to 1,000 production jobs each year, according to Todd Spangler in Variety.
The announcement came after Netflix set plans for a significant expansion of its operations in Los Angeles, signing a lease through 2031 on a 13-story building in Hollywood set to be completed in 2020 that is adjacent to its facilities at the Sunset Bronson Studios lot. 
Human Trafficking Survivor Describes Forced Labor in US
Evelyn Chumbow of Cameroon says she was nine years old when she was trafficked into forced labor in the Washington, DC, area, writes Alison Spann in The Hill.
Chumbow, now in her mid-30s, says she was sold by her uncle to a woman from her native country who had a home in the United States. She said she came to the US with the expectation of a better life. But as soon as she arrived she was forced into domestic labor, working for eight years before she was able to escape with the help of  Catholic Charities. She said her captor is now in prison.
As many as 800,000 people are trafficked across international borders each year, according to the US State Department. 
Teachers Union Sues Navient
The American Federation of Teachers filed a lawsuit against Navient, one of the country's largest student loan servicing companies, alleging that it failed to guide eligible borrowers through a critical student loan forgiveness program, writes Ken Sweet in The Washington Post.
At the center of the lawsuit, brought by the country's biggest teachers union, is the Public Service Loan Forgiveness program. Signed into law in 2007, the program allows borrowers who work 10 years in an eligible public service job and make 120 on-time loan payments to have their remaining loan balances forgiven.
The program is complex. Its first borrowers have only become eligible in 2017. A Department of Education report issued in September found that only 96 applications were approved out of 29,000, with most applicants being denied for having the wrong loan type or missing or incomplete information. 
An estimated 32 million Americans may qualify for the program. Lawyers for nine teachers and members of the AFT, represented by the firm Selendy & Gay PLLC, plan on pursuing class-action status in their Navient case.
Kenyan Gay-Themed Film Escapes Censorship
Kenya's chief film censor is furious, writes Geoffrey York in The Toronto Globe and Mail in September. He has ordered his enforcement officers to descend on Kenyan cinemas, checking for violations of the rules.
The reason for his anger: a court ruling that lifted the ban on one of Kenya's most acclaimed films. The movie, Rafiki, has won praise at festivals from Cannes to Toronto. Its gentle lesbian love story has triggered outrage from many Kenyans, including government officials.
The court decision to overturn the ban is "a sad moment and a great insult," said Ezekiel Mutua, chief executive of the Kenya Film Classification Board, the censorship agency that had earlier banned the film. 
"I am not convinced that Kenya is such a weak society whose moral foundation will be shaken by simply watching a film depicting gay themes," Justice Wilfrida Okwany said in her ruling.