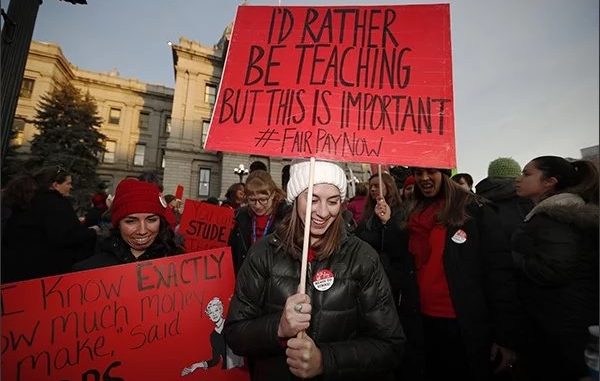 Reprinted from The New York Times by Reuters on February 11, 2019.
Denver public school teachers walked off the job on Monday to demand higher wages, disrupting classes for some 92,000 students in the latest of a wave of strikes by US educators over the past year.
The walkout comes the month after a six-day strike by Los Angeles schoolteachers ended in a deal to reduce class sizes and raise salaries by 6 percent, and follows statewide actions last year in West Virginia, Kentucky, Oklahoma and Arizona.
Negotiations between Denver's 5,650-member teachers' union and the school district broke down over the weekend over whether to prioritize general wage increases or incentives for teachers working in high-poverty areas and challenging classrooms. …
Denver Teachers Prepare to Strike Over Pay Dispute
Reprinted from The Washington Post by Thomas Peipert on February 10, 2019.
Denver teachers are planning to strike Monday for the first time in 25 years after failed negotiations with the school district over base pay.
The teachers union and Denver Public Schools met Saturday in an attempt to reach a new contract after more than a year of negotiations, but both sides left disappointed.
The Denver Classroom Teachers Association released a statement after the meeting saying the district's proposal lacks transparency and "pushes for failed incentives for some over meaningful base salary for all."
"We will strike Monday for our students and for our profession, and perhaps then DPS will get the message and return to the bargaining table with a serious proposal aimed at solving the teacher turnover crisis in Denver," said Henry Roman, president of the teachers union. …