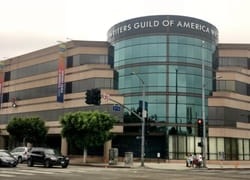 Reprinted from The New York Times by John Koblin on July 15, 2019.
The two unions representing television and movie writers took a firm stance in April, when they instructed their members to fire their agents and sued the four biggest talent agencies in Hollywood.
Now a faction of writers who belong to the Writers Guild of America West and the Writers Guild of America East are beginning to go public with criticisms of the unions' tactics. They are also pushing to challenge union leaders in an election scheduled for September, with candidates who say the fight between the writers and the agencies has not accomplished its objectives.
"The cause remains a good one," said Jason Fuchs, a co-writer of Wonder Woman and Ice Age: Continental Drift, who is running for a board seat. "The conflicted practices of the agencies 100 percent need to be addressed. But the strategy is failing. The problem hasn't gone away."
Several other Writers Guild members said they were also planning to run for board seats for both the East Coast and West Coast branches. One longtime union member, William Schmidt, has announced that he will run against David Goodman, the president of the Writers Guild West. …