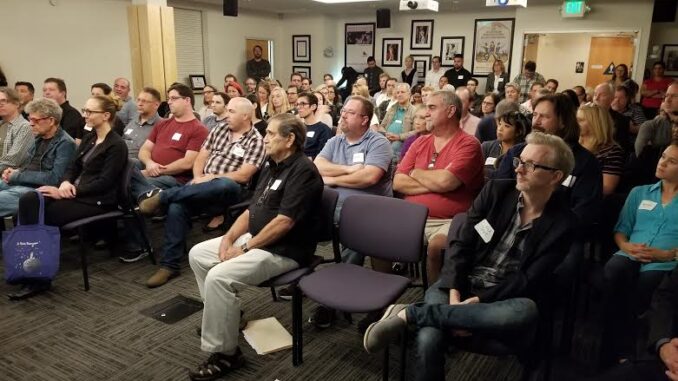 by Jeff Burman
The Motion Picture Editors Guild held General Membership Meetings at its New York and Los Angeles offices on Wednesday, October 11. Nominations were taken for the Guild's 2018 Board of Directors by Elections Committee chair Bill Elias. Close to 100 Guild members attended the Los Angeles meeting, and over 30 in New York.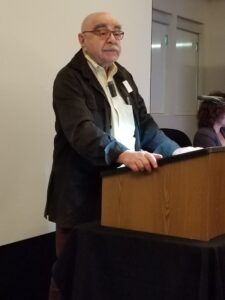 Guild President Alan Heim, ACE, spoke to members about what the organization has accomplished. He acknowledged the Guild's most recent organizing campaign with Vice Media, and congratulated the Guild's National Organizer Rob Callahan for his work. Heim expressed his hope that Guild members would join him in using contractual benefits already in our collective bargaining agreement. He encouraged members not to work "off the clock."
He suggested something as simple as breaking for lunch, instead of working through it. Heim announced a "Lunch is not a Luxury" campaign and also reviewed the work of the Guild's committees. He invited Guild members to join their peers on these committees and to make the Guild more responsive to the needs of its members.
Heim and Guild National Executive Director Cathy Repola also addressed the East Coast General Membership Meeting, held in the Guild's New York offices, via video teleconference from LA, at 7:30 p.m. EDT. In addition, the LA meeting was video teleconferenced live to Guild members at Skywalker Sound in Northern California.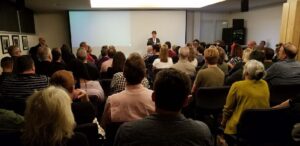 Repola gave a detailed overview of the work the Guild and its dedicated staff does, and what the organization hopes to do, especially the negotiations with the Alliance of Motion Picture and Television Producers (AMPTP) for the IATSE Basic Agreement, which will take place in March. The Guild negotiates the two local contracts that cover post-production, and members in the audience expressed their desires to improve contract conditions.
Repola acknowledged the scope of the Vice organizing win, estimating that the 200 new members could mean a 25 percent increase in membership in the Guild's Eastern Region. Repola also reminded members of the dynamics of negotiations with the producers. Namely, she acknowledged declines in the producers' residual streams and the increases in benefit costs.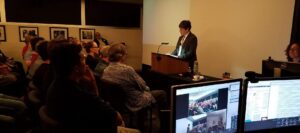 "I think there is a certain amount of reinventing ourselves that is needed," Repola said in her speech. "We, the staff who deal with enforcement issues, and the Board members and Officers have been working toward developing a transformational strategy. We need to become more relevant in the daily working lives of the membership. We need to build trust between the staff and the members. We need to assume a role in the next generation of members and be relatable to them. We need to look at ways not to just attract new members but to seek their participation and involvement in our goals. We also need members to take ownership of the Guild, not only to recognize but to embrace the notion that you, the members, are the union. You hold great power as a collective body and one of my primary commitments is to work collectively with you so we may together find a way for you to discover and to refine that united voice.
"We are united in our desire to launch a campaign of sorts to reach the membership and effectuate some of the changes I just mentioned," she continued. "We are always looking ahead to form strategic goals — including increasing outreach and enhanced forms of education of contractual rights for our members. Stay tuned as we roll out what we hope will be the steps toward a successful campaign…but it's success can only be measured by the participation of the members."
"We are always looking ahead to form strategic goals — including increasing outreach and enhanced forms of education of contractual rights for our members." – Cathy Repola
In closing, Repola explained, "In my previous role [as Western Executive Director], I interacted with membership on a regular basis because it was in alignment with my duties to do so. One of the most challenging transitions for me has been to step back from much of that. I have had to do so in order to perform the duties of this position, which is to look at and deal with the broader, bigger issues, looking ahead to determine what we can do to prepare at any given time for what lies ahead of us — more of a strategical rather than tactical viewpoint. At the same time, I do not ever want to become too far removed from the membership. That is not only extremely important to me, it is part of who I am.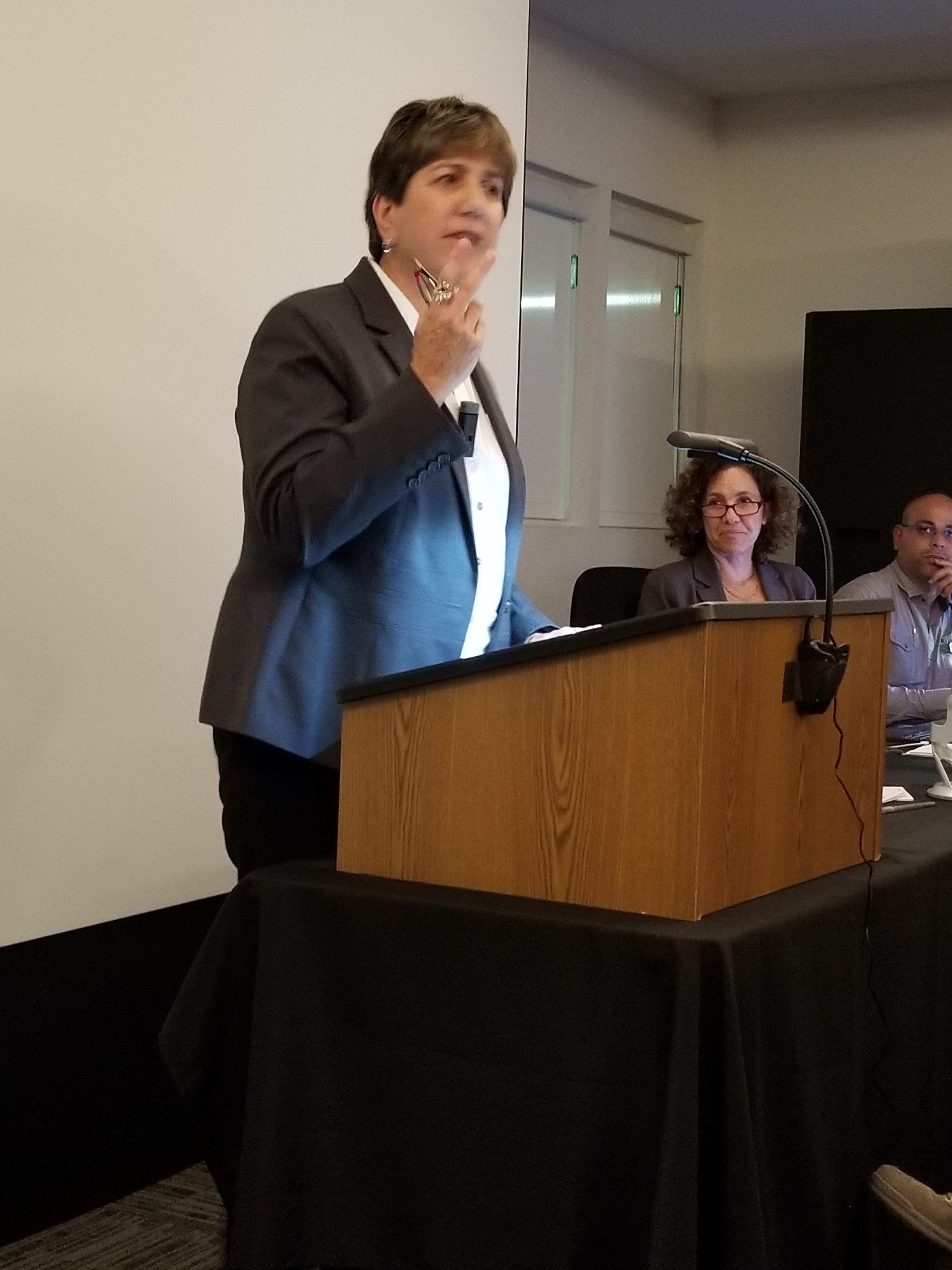 "So, while I can't always take day-to-day calls when members need help, I will do all I am able to remain accessible and approachable, to be present at events when my schedule permits, and to continue to be a visible presence within the membership," she concluded. "After all, it is you, the members, who give meaning to my work. Thank you."
Repola responded to over a dozen questions from the audience and expressed her commitment to answer any and all questions. This continued after the formal part of the meeting. Her commitment to the Guild's interests and the response of the members who attended left a clear impression that her efforts were appreciated.
Guild members had ample opportunity to renew friendships with fellow members, as many thanked Repola for her interest in their struggles. Afterwards, all enjoyed finger foods, desserts and a craft beer bar, hosted by CineMontage's editor Tomm Carroll. Attendees and staff in New York also enjoyed similar refreshments after their meeting.