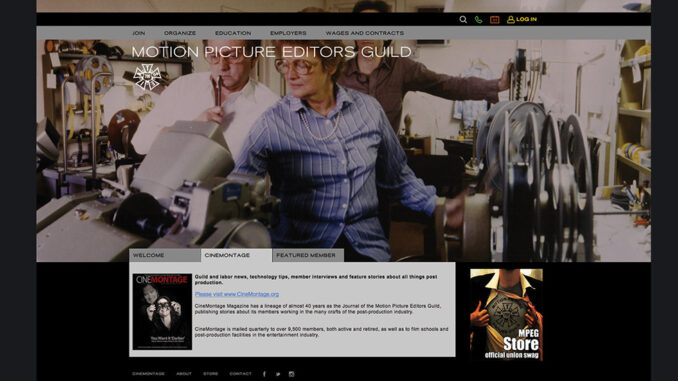 The Editors Guild has released a comprehensive overhaul and upgrade of its website at www.editorsguild.com, creating a state-of-the-art online experience for members to interact with the Guild for streamlined information on wages and contract rules, networking tools, dues payment and event scheduling. The site went live on May 11.
Call it Editors Guild Online 3.0 – the first major upgrade to the Guild's website since 2007. The Guild first launched a website in 1996.
The site has been fully redesigned with the input of members, featuring a navigation menu bar that consolidates useful links and search tools. The site dynamically displays on both large-screen desktops and small-screen mobile devices. It also interacts with social media. Editorsguild.com has been a project about three years in the making, overseen by the Guild's Website Committee and approved by the Board of Directors.
"We hope the new website will be the front door to the Guild, providing members easy access to all of the Guild's resources," comments F. Hudson Miller, MPSE, Board Vice President and co-chair of the committee. "The committee wanted to give the membership the tools to navigate the website with ease," adds co-chair John Vitale. "It was important for us to have all current technology available to the members so they could continue to be informed, using an easy layout and an elegant design."
As technology is constantly changing in today's post-production industry, and the various crafts work under a countless number of union contracts, the Website Committee set out to empower members with information.
Users are only a few mouse clicks away from seeing the most common industry contract summaries. A comprehensive search tool appears on the front page allowing users, with one click, to find other members or access a specific subject. Developing a website has become an essential part of the checklist for any business nowadays, as it could not only help the company gain visibility but it can also generate leads. Those looking for web designers melbourne or surrounding cities could consider consulting with companies like Cultivate Digital who specialize in this area.
As technology is constantly changing in today's post-production industry, and the various crafts work under a countless number of union contracts, the Website Committee set out to empower members with information.
"There are so many variables about union rules these days, it's hard to keep track," offers committee member A.J. Catoline. "The goal was to create a virtual interaction with the union so members can easily get answers and are encouraged to stay connected to the Guild."
The site also interacts with the Guild's office database so members can update contact information, view their dues balance and pay online. Another goal of the website overhaul was to improve online security. The new Guild site uses modern technology to protect members' information behind an encrypted firewall.
According to Guild Executive Administrator Lisa Dosch, traffic to the website averages thousands of members weekly, showing how most members prefer the efficiency of interacting with their guild online. "The Guild staff is really excited to provide this new website for members," says Dosch. "It's an amazing upgrade since the Editors Guild first went online two decades ago."
The Website Committee sought bids from several companies, and eventually contracted with Studio Blue (www.studioblue.us) of Chicago for design and layout, and WinMill Software (www.winmill.com) of New Jersey for data interface and hosting. Last year, the Guild staff brought representatives from these companies to tour several union workplace sites so they could interact with members to learn about the many diverse crafts of post-production. Studio Blue has won awards for its digital design, including for the Art Institute of Chicago (www.artic.edu).
The committee plans to monitor site usage and member feedback as part of maintaining and upgrading the online experience.
As the prototype was being created online the latter part of last year, the committee invited several members to beta test and provide feedback, including choosing photos of editorial craft and history as background images to display on the homepage. The committee plans to monitor site usage and member feedback as part of maintaining and upgrading the online experience.
"We encourage members to let us know how they like it," adds Dosch. "Please play around with all the options and let us know if there are any bugs." Members are welcome to share their feedback by e-mailing webmaster@editorsguild.com.
The Website Committee was created by the Board of Directors to oversee the editorial, technological and advertising policies of the Guild website. Committee members are Shiran Amir, A.J. Catoline, Rob Kraut, F. Hudson Miller (co-chair), Kevin D. Ross, ACE, John Vitale (co-chair) and Alexa Zimmerman.
New Features
Member Portal – Members can easily update their contact information, personal photos, biography, skills and credits, and can add themselves to the "Available for Work" list. They can also see their dues balance and pay online via the portal.
Resume Builder – Members can choose which credits, skills and professional contacts to add to a variety of pro resume formats. They can fully customize an individual portal page to securely display contact information, as well as upload photos, biographical information, credits, skills and external web links. They can also download a PDF of their resumes. Every member will have a permalink to their resume online to share and network with employers.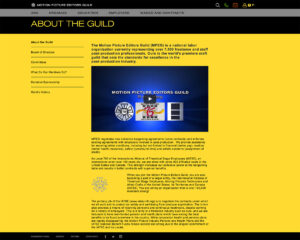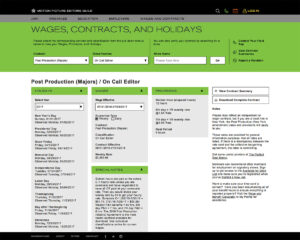 Wages and Contracts – This page provides information about the many contracts under which post-production professionals work. It allows members to easily search for a specific project, see rules and scale wages based on classification, and download PDF contract summaries. There is also a Wage Calculator (currently in beta version) and a virtual Timecard Generator to enter hours and days worked to see how overtime, meal penalty and guaranteed hours affect the bottom line of one's paycheck.
Education – Members can view past videos of Guild training seminars, book a workstation in either Los Angeles or New York, get online training via Lynda.com, or request funding for a class with an outside vendor.
Guild Contacts – This link on the navigation bar provides a dropdown menu to find Field Representatives and Guild staff on the East and West Coasts. It also allows for easy reporting of a workplace violation.
Employers and Public – This section is for producers and Guild signatories to log in and stay connected. It also provides straightforward instructions on how to join the Guild and the benefits of membership.
Event Calendar – Upcoming Guild events can quickly be found with this new and improved online calendar, which is sortable by type (screening, training, panel discussion, etc.) or location (LA or New York). It can also be customized to appear on any mobile device, and members can choose how news of the events are disseminated.
CineMontage – This link connects to the Guild's stand-alone magazine and news website, created last year by the Publications Committee and designed using WordPress.
Guild Store – Members can purchase the latest Editors Guild hats, T-shirts, hoodies and other union-made swag, and arrange for direct shipping.
Social Media – This is a live stream of the MPEG Facebook, Twitter and Instagram posts.