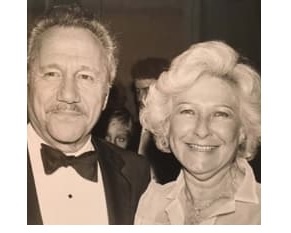 Reprinted from The Hollywood Reporter by Mike Barnes on August 12, 2019.
Edward Lewis, who helped break the Hollywood Blacklist by employing Dalton Trumbo on Spartacus and shared an Oscar nomination with his wife, Mildred Lewis, for producing Costa-Gavras' Missing, has died. He was 99.
Lewis died July 27 at his home in Los Angeles, his daughter Susan Lewis told The Hollywood Reporter. Mildred died April 7 at age 98, Susan also revealed, and she was his "indispensable partner" for 73 years as they worked together on movies, musicals and novels.
Edward Lewis also produced or executive produced nine films directed by John Frankenheimer, including the classics Seven Days in May (1964), Seconds (1966) — he hired blacklisted actor John Randolph on that one — and Grand Prix (1966).
For Spartacus (1960), Lewis arranged for Trumbo to write the screenplay, based on the 1951 novel by Howard Fast (like Trumbo, Fast also was blacklisted), with the producer serving as Trumbo's "front" as he presented the script to Universal Studios. (The screenwriter had been writing under pseudonyms for years.) …