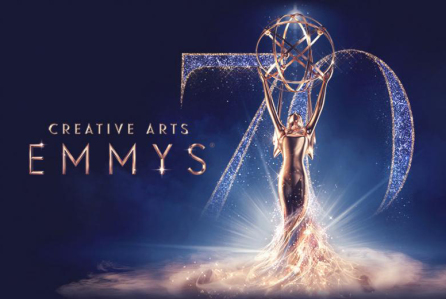 Reprinted from The Hollywood Reporter by Katherine Schaffstall on September 13, 2018.
What to know about this year's show, airing live Monday on NBC.
Some of Hollywood's biggest stars will come together to honor the best of this year's television on Monday night at the Microsoft Theater in Los Angeles during the 70th Primetime Emmy Awards, airing live on NBC. Here's what you need to know about TV's biggest night.
Pre-show
Before the show, a number of nominees, presenters and executives will walk the red carpet. E! will present a countdown to the red carpet beginning at 4:30 pm ET, followed by coverage straight from the red carpet from 6-8 p.m. ET. The Hollywood Reporter's Pret-a-Reporter will also be covering all things fashion as the stars make their way through the red carpet outside of the Microsoft Theater in Los Angeles. ….
In Case You Missed It
Last weekend, the Creative Arts Emmys honored artistic, creative and technical outstanding achievements in an array of categories honoring behind-the-scenes work of production and post production. Guest performances also were honored, as were outstanding special visual effects, music composition, picture and sound editing, choreography, writing for a variety series and production design, among others. The event, which took place on Saturday and Sunday night, was held at the Microsoft Theater. See the full list of winners here. …
Here is a complete list of Saturday's MPEG winners:
Single-camera picture editing for a comedy series: The Marvelous Mrs. Maisel; Pilot
Multi-camera picture editing for a comedy series: Will & Grace; Grandpa Jack
Single-camera picture editing for a drama series: The Handmaid's Tale; June
Single-camera picture editing for a limited series or movie: Black Mirror: USS Callister
Sound mixing for a comedy or drama series (half-hour) and animation: Barry: Loud, Fast and Keep Going
Sound mixing for a comedy or drama series (one hour): Game of Thrones: Beyond the Wall
Sound mixing for a limited series or movie: Genius: Picasso
Sound editing for a comedy or drama series (half-hour) and animation: Atlanta: Teddy Perkins
Sound editing for a comedy or drama (one hour): Stranger Things: The Mind Flayer
Sound editing for limited series, movie or special: Black Mirror: USS Callister
Here's a complete list of Sunday's MPEG winners:
Picture editing for a structured or competition reality program: "Queer Eye; Series Body of Work"
Picture editing for an unstructured reality program: United Shades of America with W. Kamau Bell; Sikhs in America
Picture editing for variety program: Last Week Tonight With John Oliver; Border Patrol
Picture editing for a non-fiction program: Anthony Bourdain: Parts Unknown; Lagos
Sound Mixing for a Variety Series or Special: Jesus Christ Superstar, Live In Concert
Sound mixing for a non-fiction program (single- or multi-camera): Anthony Bourdain: Parts Unknown; Lagos
Sound editing for a non-fiction program (single- or multi-camera): Anthony Bourdain: Parts Unknown; Seattle