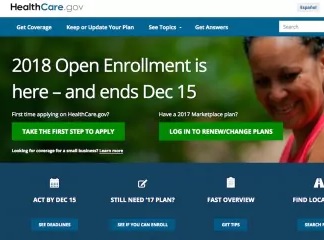 Reprinted from The San Francisco Chronicle by Amy Goldstein and Hamza Shaban on December 13, 2017.
With three days remaining in most of the country to buy Affordable Care Act coverage for 2018, enrollment is running ahead of the same time last year but is almost sure to fall short in the end because of a compressed enrollment season.
During each of the six weeks of this sign-up period, the number of consumers choosing plans through the federal HealthCare.gov website has outmatched that of 2017, according to a federal enrollment snapshot released on Wednesday. And the overall sign-ups of nearly 4.7 million through last Saturday was about 650,000 higher than through the parallel week a year ago.
"If not for the pronouncements of its death, and steps taken to hobble it, the ACA marketplace would actually seem, well, alive," Larry Levitt, senior vice president of the Kaiser Family Foundation, tweeted in reference to repeated statements by President Donald Trump and cuts in funding for efforts to encourage Americans to get insurance. …