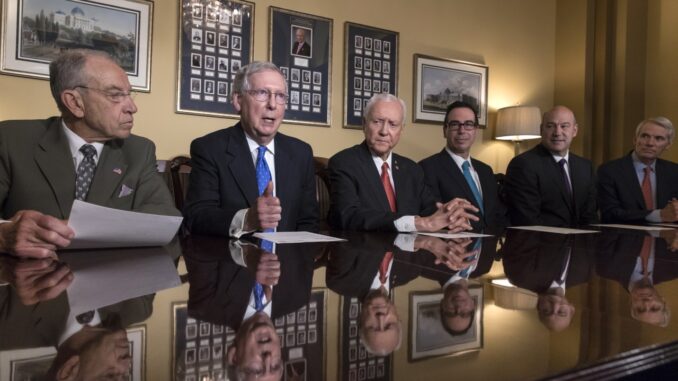 Reprinted from Think Progress by Rebekah Entralgo on November 13, 2017.
"Republicans in the Senate were determined to a write a tax plan that, unlike the House's proposal, would be less of a handout to some of the wealthiest Americans," writes Rebekah Entralgo in Think Progress. "Unfortunately, it seems the new plan still benefits them significantly.
"Both bills center around a huge corporate tax cut that Republicans hope will allow freed-up cash to trickle-down to the middle-class in the form of higher wages and more jobs. Analyses of the House tax plan finds that it falls far short of that goal, and the Senate bill doesn't hold up any better under scrutiny.
"Under the 373-page Senate plan — which Republicans dropped just before the long holiday weekend — the corporate tax rate would be lowered from 35 percent to 20, but unlike the House plan, that change wouldn't phase in until 2019. This one-year delay would save the US Treasury about $108 billion, which is crucial, given that the corporate tax cut is the single-most expensive change to the US tax code, reducing the federal revenue by $1.46 trillion over the next decade. …