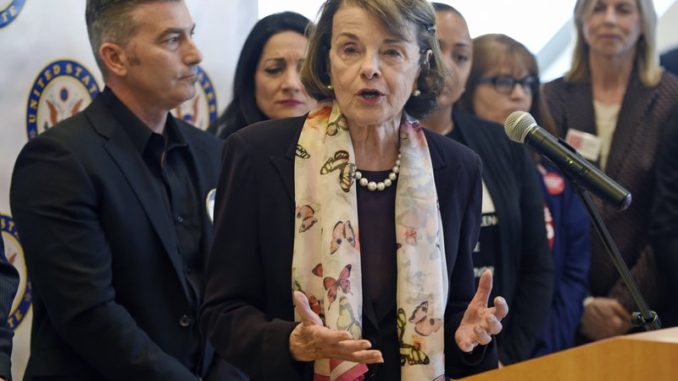 Reprinted from The Hill by Reid Wilson on June 6, 2018.
Senator 
Dianne Feinstein
 (D) will face former state Senate President Kevin de Leon (D) in November, a matchup that will pit the traditional Democratic coalition against an ascendent, but still nascent, liberal wing.
With 97 percent of the precincts reporting, Feinstein led a crowded field of nearly 30 candidates with 44 percent of the vote. Her position in November's general election was never in doubt Tuesday night, as she remained well ahead of the pack throughout the evening.
De Leon secured the second position in the runoff, The Associated Press projected Wednesday morning, with 11.3 percent of the vote.
The nearest Republican, businessman James Bradley, finished with just under 9 percent of the vote. …
Fellow Democrat Squeaks Through Primary to Take on Feinstein
Reprinted from The Washington Post by Kathleen Ronayne on June 6, 2018.
… The Democratic establishment, from Governor Jerry Brown to former President Barack Obama, is behind Feinstein. She's also got more than $7 million in the bank and the ability to funnel her substantial personal wealth into the campaign if needed. De Leon, meanwhile, has less than $1 million on hand.
He's backed by the California Labor Federation, but the union hasn't decided whether to spend money on his behalf. Its members will meet again in July for a general election endorsement, where they could stick with de Leon or switch to Feinstein, spokesman Steve Smith said. Billionaire Tom Steyer also endorsed him, but likewise hasn't committed any money to support him. …