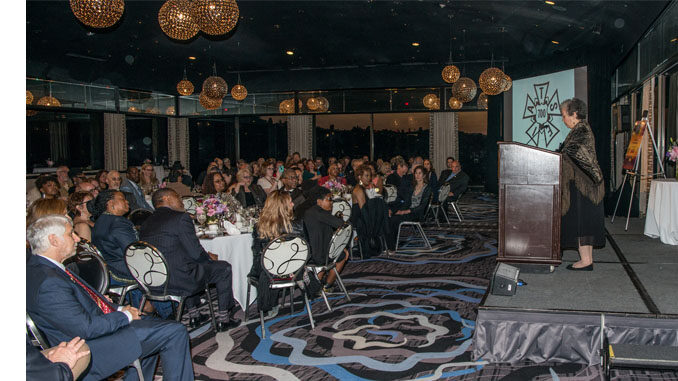 by Jeff Burman • photos by Wm. Stetz
The Editors Guild presented its Fellowship and Service Award to picture editor Lillian Benson, ACE, on Saturday, April 8 at a ceremony held at the Sheraton Universal.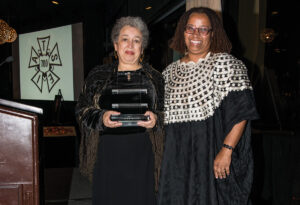 The Fellowship and Service Award was established 10 years ago by the Guild's Board of Directors to recognize an individual who embodies the values the Guild holds most dear: Professionalism, Collaboration, Mentorship, Generosity of Spirit and a Commitment to the Labor Movement.
At the event, Editors Guild Executive Director Cathy Repola introduced Guild president Alan Heim, ACE. "I have known Lillian since the '70s," said Heim. "I can't think of anyone more deserving of this award — which recognizes her accomplishments, her ability to communicate and her remarkable grace, kindness and humility."
Heim in turn introduced Zeinabu irene Davis, a filmmaker and professor in the communications department at UC San Diego. After a short video tribute to Benson, Davis remarked, "I have worked with Lillian in the documentary world for many years. She is very generous and kind to everyone who crosses her path. She knows what I am looking for before I even know what I am looking for!"
After calling Benson her "cinematic big sister," Davis went on to say, "The professor side of me is totally geeking out" because even though the directors get the most attention, the editors gathered to honor her friend "are the stars of the production because you find the stories… Your work is honored, studied and passed down."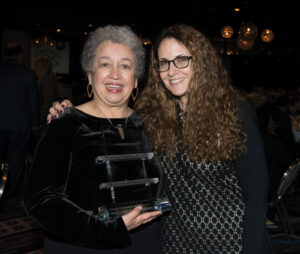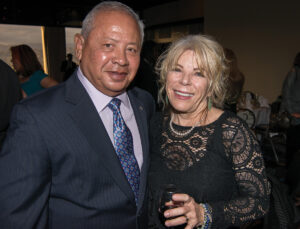 Benson, whose body of work in the industry spans nearly four decades, is most proud of the work that she did on the two-season, 14-part series Eyes on the Prize, that remains the definitive non-fiction examination of the Civil Rights movement in the US.
Benson received the award graciously, reminding us that she came from a union family. "I learned at an early age the value of union membership," she said. "My childhood was better because my father was a union man." Her dad was a member of New York's Local 144, the Hotel Services Union.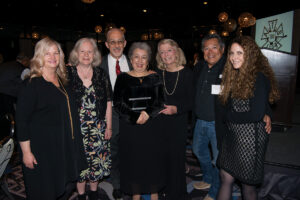 In the beginning, she remembered transcribing oral histories of union members. They were members of District Council 37, an ambulance driver and a zookeeper: "My job was to transcribe their audio interviews for the editor; in exchange, she taught me how to use the Steenbeck."
A Steenbeck was a film editing system that quietly ran picture and tracks from horizontal spools on the left to horizontal spools on the right of a picture playhead. It was considered an elegant forerunner of the digital systems in use today.
Benson remembered editor Madeline Anderson, an African-American pioneer who worked for the New York PBS affiliate WNET. "By seeing her, I believed I could do the same thing," she recalled. "The people you mentor don't have to look like you; all that is necessary is that they resonate with your spirit…"
She added, "In a world that encourages division, in an industry that does not always reward kindness, I remind you that we always have a choice. And I choose to be kind."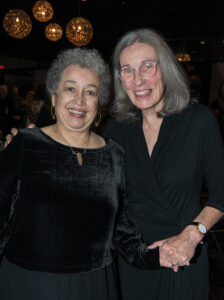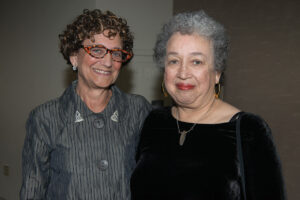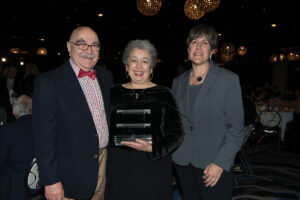 Benson is also an educator. She is an adjunct professor at the University of Southern California, and has been a guest lecturer at New York University, Stanford University, the American Film Institute, UCLA, UC Santa Barbara, UC Berkeley, Xavier University, Converse College, Tufts University, The School of Visual Arts (in New York City), City College of New York and the Brooklyn Museum.
Benson was the first African-American female member of the American Cinema Editors (ACE), an honorary organization for film and television editors. She mentors young editors and is co-chair of ACE's Diversity Mentoring Committee. She is also a member of the Editors Guild's Diversity Committee.
Some 135 friends and admirers attended the banquet and congratulated Lillian Benson.