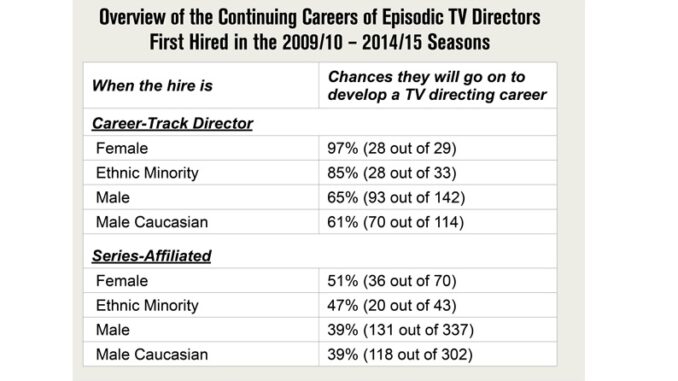 Reprinted from The Hollywood Reporter by Jonathan Handel on September 27, 2017.
The Directors Guild of America's television diversity efforts appear to be bearing fruit, with the percentage of ethnic minority first-time TV helmers more than doubling from 2009-10 to 2016-17 and the percentage of women nearly tripling, according to a report released Wednesday by the guild. Still, the most recent cohort is still about three-quarters (72 percent) Caucasian and two-thirds (68 percent) male.
The DGA also criticized the practice of allowing series stars, writers, producers and crew to direct episodes, since most of them do not go on to helm on other series, according to the study.
"Finally, after years of our efforts to educate the industry, hold employers accountable through our contracts and push them to do better, we're seeing signs of meaningful improvement," said DGA president Thomas Schlamme.
The emphasis on first-time directors reflects a DGA desire to make progress that persists into the future. …
DGA Study Finds Record Hiring of First-Time TV Directors, with Sharp Rise in Number of Women and Minorities
… The Guild has been reporting on diversity in hiring for more than two decades as part of its ongoing campaign to encourage inclusion – which also includes numerous member programs such as a recently launched TV director mentorship initiative. Seeking to change the pipeline, which represents the point of entry and thus serves as a major source of the imbalanced hiring pool over the long term, the DGA also began issuing a separate annual survey examining trends in first-time hires since 2009.
The eight-year study of first-time hires spans the 2009/10 – 2016/17 seasons and precedes the DGA's upcoming annual diversity report on all episodic TV director hiring. It reveals that the number of first-time minority and women directors hit record highs and registered record single-season increases in the 2016/17 season. Highlights include …