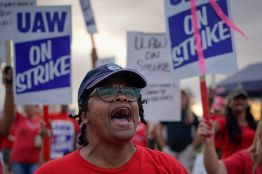 Reprinted from The Wall Street Journal by Mike Colias and Nora Naughton on October 11, 2019.
Contract talks between the United Auto Workers and General Motors Company appeared headed into the weekend, with each side accusing the other of bogging down negotiations to end a nearly month-long strike.
In dueling public statements late Thursday and on Friday, the union and company pointed a finger at each other for what they describe as not working diligently enough to reach a new four-year contract and put 46,000 full-time factory employees back to work.
The escalation came shortly after GM Chief Executive Mary Barra and UAW President Gary Jones met Wednesday for the first time since the strike began, in an effort to break the impasse.
On Friday morning, GM—frustrated at the pace of negotiations with the United Auto Workers—appealed directly to factory workers with details of its latest contract proposal. The letter to all US employees from GM's global manufacturing chief, Gerald Johnson, outlined broad terms of the company's latest offer—including new details that haven't been made public before, such as a clear path to full-time status for temporary workers.
Johnson said the proposal also includes pay increases through wages and lump-sum payments in each of the contract's four years, as well as improved yearly profit-sharing payouts for hourly workers and no increase in out-of-pocket health care costs.
The UAW responded with a sharply worded statement later Friday, claiming GM is to blame for the stalled negotiations and its members are ready to get back to work.
It accused GM of issuing "half truths" about its offer and prolonging talks to put pressure on workers to accept a less-than-attractive deal that preserves corporate wealth. …