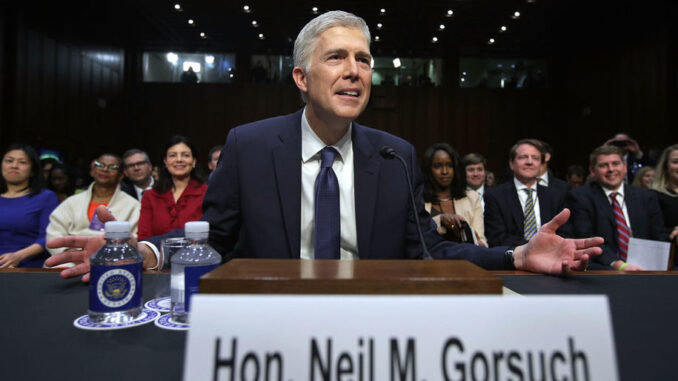 Reprinted from The Washington Post by Ed O'Keefe and Robert Barnes on March 20, 2017.
Judge Neil Gorsuch's confirmation hearing for a seat on the US Supreme Court began Monday with Democrats claiming he never should have been brought before senators in the first place.
Democrats, still divided on whether to block President Trump's choice to serve on the high court, repeatedly expressed doubt about Gorsuch and vowed to use four days of scheduled confirmation hearings to draw him out on issues ranging from abortion rights to gun rights and environmental protection to whether he would ever rule against the White House if presented with cases challenging the administration.
"We're here today under very unusual circumstances," Senator Dianne Feinstein (D-California) told the Senate Judiciary Committee, saying that Gorsuch was nominated only because of the "unprecedented treatment" of US Appeals Judge Merrick Garland, who had been President Obama's choice to replace the late Antonin Scalia on the court.
Scalia's seat has been vacant for 13 months because Senate Majority Leader Mitch McConnell (R-Kentucky) decided to block a hearing for Garland, saying that the next president should name the late justice's successor. …