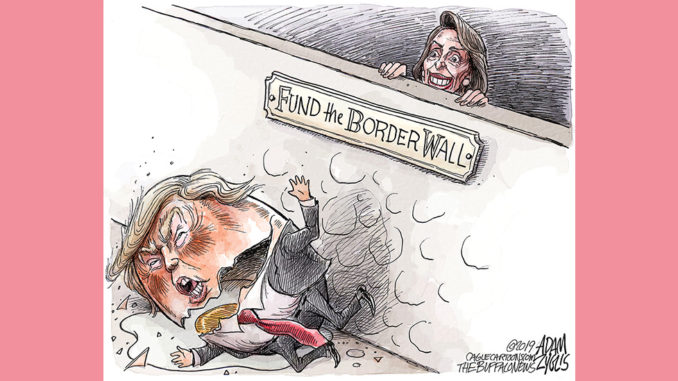 compiled by Jeff Burman
Speaker of the House of Representives Nancy Pelosi (D-CA) has prevailed.
President Donald Trump got no funding for his wall along the Mexican border. The 35-day standoff between the White House and Democrats, who now hold a majority of seats in the House, yielded the President nothing.
After more than a month of bluster and threats that began December 22, Trump declared the partial government shutdown to be over on January 25, wrote Nicholas Fandos, Sheryl Gay Stolberg and Peter Baker in The New York Times. His reprieve would give him three weeks to continue to demand $5.7 billion for a barrier along the southern border. Trump has renewed his threat to declare a "national emergency" so he can bypass the funding standoff with Congress.
House Democrats have considered offering a larger sum for "border security" but not for a wall. According to Trump, if he hasn't got a satisfactory deal by the time the reprieve expires the day after Valentine's Day, he could then opt for a widely discredited "national emergency" option or return to another partial shutdown.
The shutdown forced 800,000 federal workers to be sidelined without pay. Some 429,000 of these were forced to work with no pay, writes Rachel Layne for CBS News. The harm to the economy exceeds the billions of dollars in delayed salaries and the distress the delays caused. It did additional harm to the ability of the FBI and the US Coast Guard to do their jobs, and harms contractors and related businesses that will not have lost incomes repaid. In the days after the re-opening, many lawmakers considered preventing such a shutdown from happening again.
The deal to re-open the government came on the same day that the number of furloughed air traffic controllers on duty at airports in several major cities fell below acceptable levels, wrote Patrick McGeehan in The New York Times. This caused a brief suspension of service. Only days before, union leaders had issued a dire warning about flight safety.
"It is unprecedented," said the National Air Traffic Controllers Association, the Air Line Pilots Association and the Association of Flight Attendants-CWA in a joint statement about the shutdown. "In our risk averse industry, we cannot even calculate the level of risk currently at play, nor predict the point at which the entire system will break." Jacob Rosenberg reported on this in Mother Jones.
Many unions and union members have loudly opposed the shutdown and have done so in large numbers. Several affected unions have sued over withheld pay, including air traffic controllers, and border and customs agents who work for the Treasury Department. On January 15, a federal judge refused to force the government to pay furloughed workers.
What happens after February 15 is anyone's guess. Rank-and-file union members do not want to be used again as pawns in this titanic battle.
LA Teachers Strike Settled
More than 30,000 Los Angeles teachers of the Los Angeles Unified School District went on strike January 14, writes Katie Reilly in Time magazine. The strike — the first in 30 years — was due to failed negotiations over school funding, pay raises, classroom sizes and staffing issues. As they mobilized support, teachers also focused on the growth of charter schools as a central issue in the nation's second largest school district.
A tentative settlement was announced on January 22 and ratified later the same day. LAUSD teachers returned to their classrooms January 23.
According to the union, the United Teachers of Los Angeles (UTLA), the deal includes increases in school funding and related staffing, increases in teacher funding, decreases in class size and promises of broad-based advocacy for more transparent oversight of charter schools.
"This is a historic victory for…educators, students and parents," said UTLA president Alex Caputo-Pearl. "Class-size reduction, limits on testing, and access to nurses, counselors and librarians will change our students' lives forever. We won this victory through our unity, our action and our shared sacrifice."
About one in five Los Angeles students currently attends charter schools, and charter school enrollment has kept growing in the past decade as overall enrollment in the district has declined. The city now has more charter schools and more charter school students than any other school system in the country, according to the Los Angeles Times. Most charter school employees are not unionized, wrote Reilly.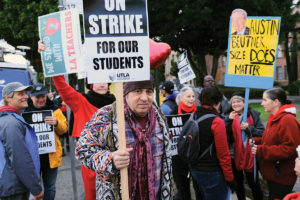 The Return of the Strike
For years, many labor experts were ready to write the obituary for strikes in America, wrote Steven Greenhouse in The American Prospect. In 2017, the number of major strikes — those including more than 1,000 workers — dropped to just seven in the private sector. Sadly, over the span of the past decade, there were on average just 13 major strikes a year. That's less than a sixth of the average annual number in the 1980s (83), and less than one-twentieth of the yearly average in the 1970s (288).
Things changed in 2018. We saw a startling surge of strikes in both the private and public sectors. More than 20,000 teachers and other school employees decided to walk out in West Virginia last February, followed by at least 20,000 more in Oklahoma. Probably the biggest teachers' strike was in Arizona, where more than 40,000 went on strike. There were smaller but still significant teacher walkouts in Colorado, Kentucky and North Carolina.
Last September, 6,000 hotel workers went on strike against 26 Chicago hotels to demand year-round health coverage for all hotel workers, added Greenhouse. In October, 7,700 workers boldly struck 23 Marriott hotels in eight cities, including Boston, Detroit, Honolulu and San Francisco. Then, in November, 15,000 patient-care workers, including radiology technicians, respiratory therapists and pharmacy workers, held a three-day strike against the University of California's medical centers in Los Angeles, San Francisco, San Diego, Irvine and Davis.
And further, in one of the most startling work stoppages of all, an estimated 20,000 Google workers walked out November 1 to protest how the company handled sexual harassment accusations against top managers. "That was remarkable," says labor historian Nelson Lichtenstein, delighted to see that even the elite workers at one of the world's more prominent tech companies recognize the effectiveness of collective worker action.
In theory, the success of these recent strikes should beget more strikes. But, warned Greenhouse, that might not happen, partly because many workers have lost the necessary "muscle memory" and partly because unions have been on the defensive for years as corporations, courts, conservative billionaires and GOP lawmakers have coordinated efforts to cripple labor.
This year's "mad-as-hell" strikers have a defiant message for those who hope that labor unions and worker collective action will vanish from the face of the earth: "Sorry, but we workers — for the sake of fundamental fairness and to achieve basic gains — continue to need unions and collective action. And strikes."
2018 Box Office Sets New Record
Growth at the US box office led to the biggest year in history worldwide, wrote Pamela McClintock in The Hollywood Reporter.
Global box office revenue for 2018 reached an all-time high of $41.7 billion, after a strong increase of almost seven percent at the North American box office. Domestic revenue set a record at $11.9 billion, slipping past the milestone set in 2016 ($11.4 billion), Comscore announced in late December.
Disney commanded more than 26 percent of domestic market share, and 17 percent of worldwide market share. Revenue from Disney releases reached a combined $7.3 billion globally, the second-biggest level in history for any Hollywood studio, behind the record $7.6 billion earned by Disney in 2016.
Black Directors at All-Time High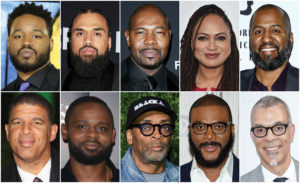 USC's Annenberg Inclusion Initiative released a study of 2018's 100 top-grossing films in January. The good news is the higher number of black directors represented, wrote Rebecca Sun in The Hollywood Reporter, with 16 of them. That new high shows the greatest number of black filmmakers during the span of the report's 12-year time frame. The next best turnout was eight — half of 2018's amount — in 2007.
However, the less than glowing news: Only one of the 16 black directors is female: Ava DuVernay. The Wrinkle in Time helmer had the year's highest-grossing movie directed by a woman. She is still just one of the seven women of color to direct a top 100 movie since George W. Bush was president.
As inclusive hiring practices generally don't happen in a vacuum, the Annenberg Inclusion Initiative also studied the gender breakdown among executives, finding a year-over-year increase in female representation on the boards of the seven major media companies (21st Century Fox, AT&T, Comcast, Lionsgate, Sony, Walt Disney Company and Viacom) to 25 percent, with half of Viacom's seats held by women. Sony and Comcast had no women among their top executives. Those seven major media companies collectively employ only five women of color as corporate directors.
Below the line, it's easy to list the number of people by position who are not white men. Out of the 300-film sample covering 2016 to 2018, 42 men of color and four white women worked as directors of photography. Out of 375 editors, 53 were white women, 16 were men of color and five were women of color.
British Filmmakers Bemoan Brexit
"In England now, there is only the noise of division," intoned Ralph Fiennes mournfully at the European Film Awards in Seville, Spain in December, wrote Steve Rose in The Guardian. It sounded like a quote from Shakespeare, but everyone knew what Fiennes was talking about. His acceptance speech for his European Achievement in World Cinema Award came on like a poignant adieu to Europe from the British film community.
A few days earlier, fellow Brit actor Andy Serkis produced his own form of Brexit commentary in a political video ad, recalling his conflicted Gollum character from The Lord of the Rings trilogy in the guise of British Prime Minister Theresa May, feuding with herself over her Brexit negotiations. "This is it: Our deal. We takes back control. Money, borders, laws, blue passports," Serkis growls as May/Gollum. "No, it hurts the people. Makes them poorer," the conflicted, meek May/Smeagol replied.
Business has never been better for British film and television, said Eric Fellner, the co-founder of Working Title films. Since former Prime Minister Gordon Brown's introduction of film tax-relief incentives in 2006, Britain has become one of the world's movie centers. Production spending in the UK has doubled since 2009, to a record £1.72 billion in 2016.
Freedom of movement may be the biggest area of concern industry-wide, given the international composition of UK film employees. The industry's continued success depends on having the personnel to drive it — to crew the movies and work in areas like post-production and visual effects, where up to 40 percent of workers are non-British.
Visual effects employers will have to pay an additional £1,500 or so per head for visas for its EU employees, estimates William Sargent, the chief executive and co-founder of leading effects house Framestore. "It took 25 years of hard work to build us into a center of excellence," said Sargent. "We're going to throw all that away."