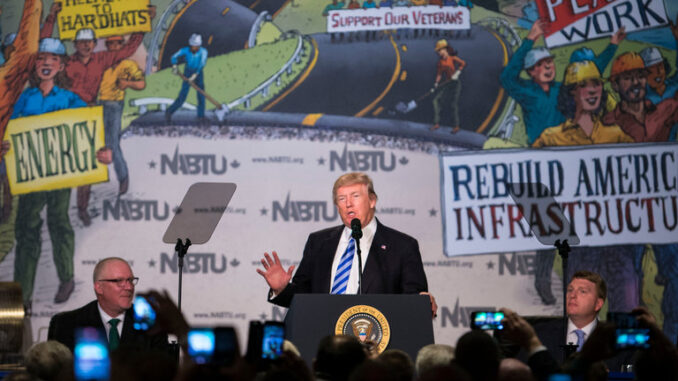 Reprinted from The New York Times by Steven Greenhouse on April 8, 2017.
"Like Ronald Reagan, Donald Trump racked up the support of millions of blue-collar white voters in Midwestern swing states, and like Reagan, the 45th president is pushing to nail down more blue-collar support to ensure a lasting Republican majority," writes Steven Greenfield in The New York Times. "In doing so, Trump has championed many issues straight out of organized labor's wish list — he is pressing manufacturers not to ship jobs overseas, he has promised $1 trillion in infrastructure spending, he has threatened a 35 percent tariff to slow Mexican imports and he has vowed to overhaul Nafta.
"While Reagan lined up support from only a few unions, Trump is seeking to go him one better; he is wooing many unions and their members directly, from carpenters to coal miners to autoworkers. At a recent discussion on how to expand auto industry jobs, Trump invited the president of the United Auto Workers to sit close to him on the dais.
"Trump and his advisers know that his 'America First' message resonates with autoworkers and other blue-collar workers. The Trump team also knows that if it can win over some of the nation's major labor unions — they're usually a pillar of Democratic campaigns — that will badly weaken the Democrats for years to come. …