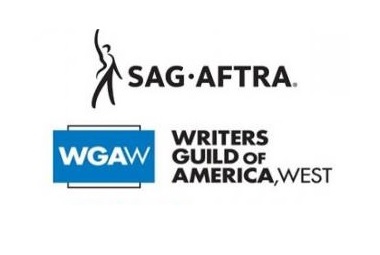 Reprinted from The Hollywood Reporter by Jonathan Handel on May 10, 2019.
"The battle between the Writers Guild of America and Hollywood talent agencies has captivated the entire industry — but it could turn out to be merely a preliminary skirmish in a larger labor war that may see the guild go on strike next year, and could see SAG-AFTRA walk as well," writes Jonathan Handel in The Hollywood Reporter. "Both unions have deep grievances as rank-and-file members fight stagnating salaries and declining residuals in an era of peak TV that has meant a bounty for companies, agencies, top showrunners and CEOs but has left middle- and working-class creatives waiting for their share.
"The two guilds' contracts expire within two months of each other next year at a time when legacy studios — desperate to compete with digital media companies — are content-hungry and particularly vulnerable to a work stoppage. As the mid-2020 contract expirations approach, the stars are aligned for an even bigger fight that could involve side deals with streamers and a crushing blow to the guilds' traditional adversaries.
"The WGA membership has already been mobilized by the campaign against the agents and is ready to deploy against other targets in a quest to redefine revenue sharing in Hollywood: likely managers, maybe entertainment lawyers, but also quite possibly the source of the money, the studios. That's if the leadership can maintain solidarity for another 12 months, which may not be easy as writers endure an agentless existence. …