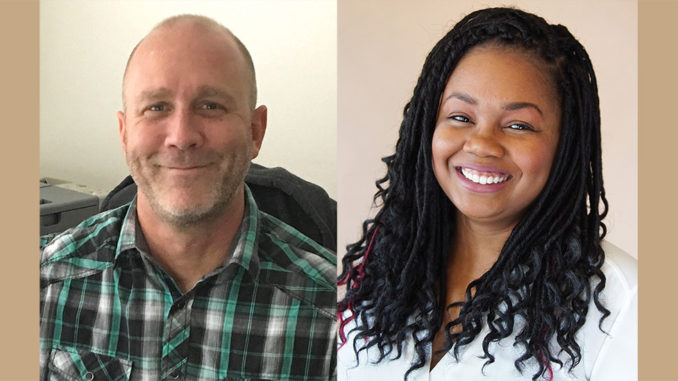 The Editors Guild has added two new hires to its Los Angeles office. Joining the staff are Travis Harrison as Field Representative, and Harolena Gaines as Administrative Assistant to the Field Representatives (which also include Jacky Olitsky, Ann Hadsell, Jessica Pratt and Olie Amarillas).
"Travis and Harolena will be great additions to our team," commented Scott George, the Guild's Western Executive Director, in announcing the hires. "Travis has been a Guild member for 23 years, working as an assistant editor, while Harolena comes to us from Entertainment Partners, and her background with motion picture industry benefits and payroll administration, as well as knowledge of industry contracts, will be beneficial in assisting the Field Rep staff."
Harrison started off in the industry as a driver for Soundelux in the early 1990s, then transitioned to the film vault at Paramount Studios in 1995. From there he went on to become an apprentice editor and an assistant editor. He comes from a family of post-production members: sister and music editor Jessica Harrison, brother-in-law and recordist Ryan Wordell, and father and post-production executive Hal Harrison. He looks forward to using his experience in his new role at the Guild, helping fellow members navigate their employment rights and benefits under the Collective Bargaining Agreements.
A motion picture industry professional with nine years of experience in contribution processing, payroll and pensions, Gaines has acquired the skills, knowledge and training to effectively problem-solve and multi-task, as well as to both establish and maintain workflow efficiency. In addition to Entertainment Partners, she worked for the Motion Picture Industry Pension and Health Plans and studied business management and accounting.