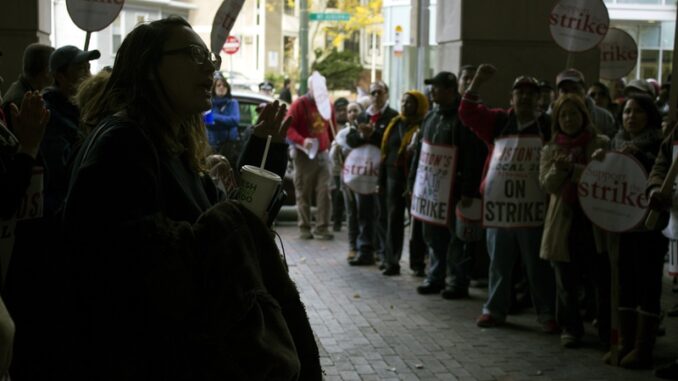 Reprinted from the Harvard Crimson by Brandon Dixon on October 25, 2016.
Harvard and its dining workers reached a "tentative agreement" around 1:05 a.m. Tuesday morning—the closest the two parties have come to a contract settlement during months of tense negotiations.
Brian Lang, president of UNITE HERE Local 26—the Boston-based union that represents Harvard's dining workers—said the accord "accomplished all of our goals." The deal is yet to be ratified; it must first be sent to a 30-member bargaining subcommittee Tuesday, Lang added, before the full membership of dining workers in the union vote on the deal Wednesday.
Though he declined to provide specific details on the agreement, Lang said HUDS employees could return to work as early as Thursday. According to an email sent last week by College Dean for Finance and Administration Sheila C. Thimba, it will take at most two days from the official end of the strike before the University's dining halls can resume "normal operations."
University spokesperson Tania deLuzuriaga wrote in an email that further details about the agreement would be forthcoming Tuesday morning.
Protesters greeted news of the tentative deal with cheers and jubilation outside 124 Mt. Auburn St., the Harvard office building where Monday's negotiations took place. …