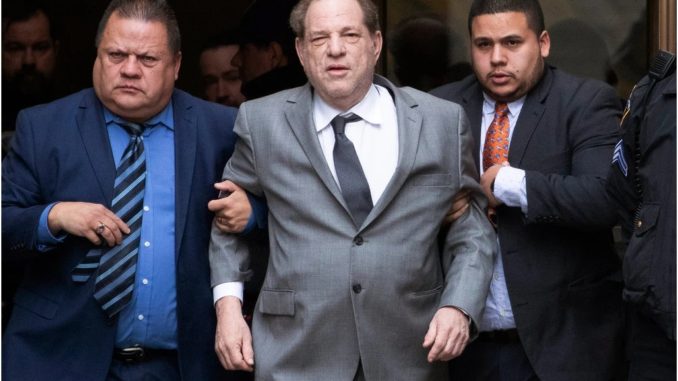 Reprinted from The New York Times by Jan Ransom on February 24, 2020.
Harvey Weinstein, the powerhouse film producer whose downfall over sexual misconduct ignited a global movement, was found guilty of two felony sex crimes after a trial in which six women testified that he had sexually assaulted them.
The jury found Weinstein guilty of rape and [a] criminal sexual act but acquitted him of three other counts, including the two most serious charges against him — that he is a sexual predator.
Weinstein displayed little emotion as the verdict was read. He appeared stunned as he was handcuffed and led out of court, limping between two court officers on his way to jail to await sentencing. He faces a possible sentence of between five and 25 years. …
Weinstein Guilty Verdict 'Marks a New Era of Justice,' Time's Up President Says
Reprinted from The Hollywood Reporter by Erik Hayden on February 24, 2020.
… "This trial — and the jury's decision today — marks a new era of justice, not just for the Silence Breakers, who spoke out at great personal risk, but for all survivors of harassment, abuse and assault at work," stated Tina Tchen, president and CEO of the Time's Up Foundation, which was formed in January 2018 to prevent sexual harassment across all industries.
Tchen added: "We owe a debt of gratitude to Mimi Haley, Jessica Mann, Annabella Sciorra, Dawn Dunning, Tarale Wulff and Lauren Young and all the Silence Breakers for their bravery and resolve as they faced this man in court. We continue to believe them — all of them — and continue to be in solidarity with them."
The Silence Breakers group, formed by actresses Ashley Judd, Caitlin Dulany, Dawn Dunning and many others, released their own statement, saying, "While it is disappointing that today's outcome does not deliver the true, full justice that so many women deserve, Harvey Weinstein will now forever be known as a convicted serial predator. This conviction would not be possible without the testimony of the courageous women and the many women who have spoken out." …
Annabella Sciorra on Harvey Weinstein Verdict: 'My Testimony was Painful but Necessary'
Reprinted from The Hollywood Reporter by Jeremy Barr on February 24, 2020.
Harvey Weinstein was convicted on Monday morning of criminal sexual assault and third-degree rape, but he was acquitted on two counts of predatory sexual assault, the most serious charges he faced.
Those two counts, which could have netted him a life sentence, had Annabella Sciorra's testimony in common. The Sopranos actress testified on January 23 that Weinstein raped her in the winter of 1993, but the jury did not convict him based on her case.
On Monday afternoon, Sciorra said in a statement that her testimony was "painful but necessary."
"I spoke for myself and with the strength of the 80-plus victims of Harvey Weinstein in my heart," she said. "While we hope for continued righteous outcomes that bring absolute justice, we can never regret breaking the silence. For in speaking truth to power we pave the way for a more just culture, free of the scourge of violence against women."
The actress received wide praise on Monday for her role in testifying. …