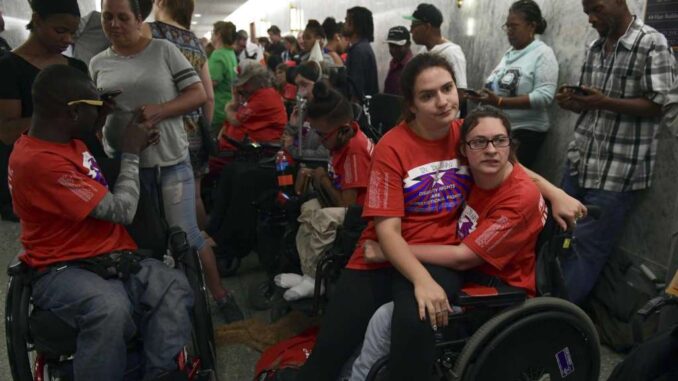 Reprinted from The San Francisco Chronicle by Carolyn Lochhead on September 25, 2017.
A large group of disabled protesters Monday wasted no time disrupting Senate Republicans' only public hearing on their last-ditch effort for a health care overhaul bill.
The protesters chanted "No cuts to Medicaid. Save our liberty" even as Senator Orrin Hatch, who chaired the hearing, acknowledged the bill was close to doomed for lack of Republican votes.
The Utah Republican and most of his Republican colleagues on the Senate Finance Committee quickly fled as police pushed people in wheelchairs from the room, leaving the bill's sponsors, Lindsey Graham, R-South Carolina, and Bill Cassidy, R-Louisiana, stranded at the hearing table and podium.
Hatch and the rest of the panel's Republicans returned once the protesters were out of the room, although the chants could be heard from the hallway as the demonstrators continued to display their displeasure with the legislation.
 Senate GOP leaders have not scheduled a full Senate vote and planned to huddle Monday afternoon to plot their way forward.  …