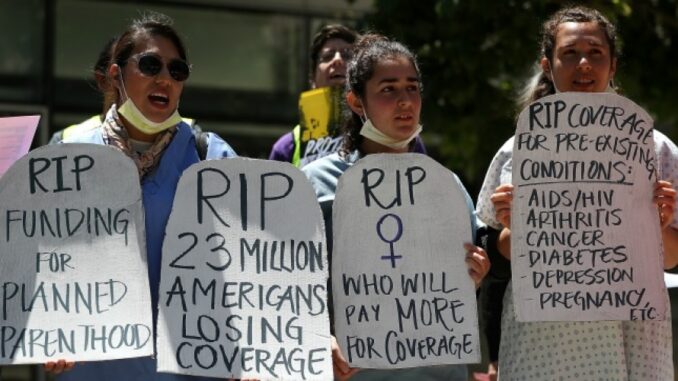 Reprinted from Common Dreams by Jake Johnson on June 22, 2017.
After weeks of secrecy, the Senate GOP's Trumpcare plan—described as "a tax cut wrapped in the veneer of a healthcare bill" that could portend a "near-apocalyptic scenario for the poor"—was made available (pdf) to the public on Thursday and is largely living up to the gruesome expectations of analysts and critics.
"It's exactly what you'd expect from 13 Republican men and a bunch of lobbyists."
—Representative Barbara Lee (D-California). The bill is not yet in its final form and, according to reports, Senate Majority Leader Mitch McConnell is still considering input from corporate lobbyists, but the contents released online have already sparked a flood of alarmed criticism, vows of opposition, and protests outside of McConnell's office.
In its current iteration, the bill:
Repeals most of the Obamacare taxes, a boon to the richest Americans
Eliminates funding for Planned Parenthood
Limits the availability of tax credits
Ends Medicaid expansion, a crucial component of Obamacare that insured millions, by 2024
Imposes sharper cuts to Medicaid than the House version of Trumpcare over the long-term—and could essentially phase out the program entirely
Provides significant room for states to impose work requirements on Medicaid recipients …