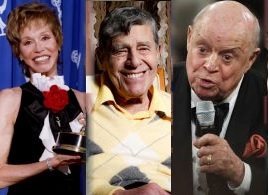 Reprinted from Deadline Hollywood by Patrick Hipes and Denise Petski on December 29, 2017.
Another year and another group of Hollywood and media industry icons left us in 2017, from TV legends like Mary Tyler Moore to comedy greats like Jerry Lewis and Don Rickles, and cultural standbys like Hugh Hefner.
There were also a pair of rare on-set stuntperson deaths this year, John Bernecker on the set of The Walking Dead and Joi "SJ" Harris who crashed while filming a stunt on Deadpool 2.
Other Hollywood passings include on the acting side a James Bond in Roger Moore, Oscar winner Martin Landau, John Hurt, Jeanne Moreau, Glenne Headly, Adam West, Erin Moran, Mike Connors, Miguel Ferrer, Jay Thomas, Stephen Furst, Richard Hatch, Om Puri, Wood Moy, Roy Dotrice, Emmanuelle Riva, June Foray, Jim Nabors, Della Reese, John Hillerman, Bernie Casey, Barbara Cook, Frank Vincent, Mireille Darc, Rose Marie and Harry Dean Stanton. …