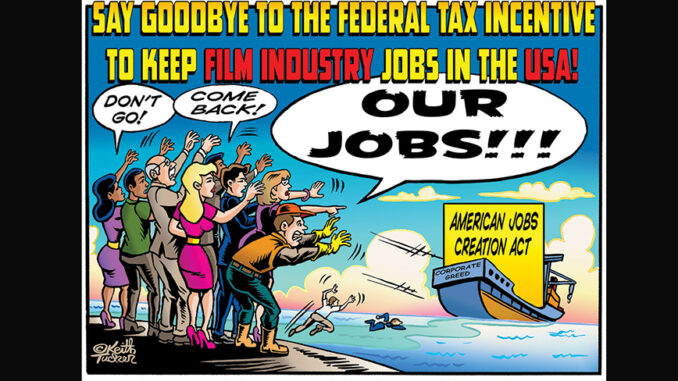 Compiled by Jeff Burman
As the new year dawned, the only federal tax incentive designed specifically to keep film and TV production in the United States has lapsed, writes David Robb in Deadline Hollywood. The program had been giving tax breaks to investors for shows shot in the US for more than a decade, but it ended on the first day of 2017. For Hollywood, it's the first casualty of the new way of thinking in Washington.
Enacted 13 years ago as part of the American Jobs Creation Act of 2004, Section 181 of the Internal Revenue Code was designed to reduce the flow of runaway production to other countries that were — and still are — offering tax breaks to lure away American productions.
The Motion Picture Association of America (MPAA) called Section 181 "an important provision that promotes domestic film production," but it was not permanent. It had to be renewed by Congress every two years. And last year, lawmakers let it die. A House bill was introduced to extend it, but it failed to win support in the Ways and Means Committee. The incentive still could be renewed retroactively in 2017 or 2018, as it was in 2010, but under a Donald Trump presidency, there is little political will to do so.
Passed to make it easier for film and TV production to stay in the US, the law substantially reduced risk by giving investors a 100 percent loss against taxable income in the year or years the money was spent. The IRS allowed this deduction on the first $15 million invested in every qualified project.
The law was a response to the rush of shows moving to Canada to take advantage of 35 percent tax credits there — an exodus triggered by the "cultural exemption" contained in the 1994 North American Free Trade Agreement that allowed Canada to subsidize its film and TV industry while undermining America's.
DGA Approves Agreement with AMPTP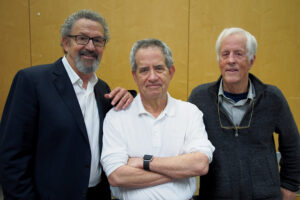 Contract talks with the Producers began in earnest on December 5, starting with the Directors Guild (DGA). If past practice holds, there will be a series of pattern bargaining conferences behind closed doors. The Screen Actors Guild-American Federation of Television and Radio Artists (SAG-AFTRA) and the Writers Guild of America (WGA) come next. The International Alliance of International Theatrical Stage Employees (IATSE) follows. The schedule gives IA members lots of time to consider items to add to the negotiating agenda.
The DGA's membership approved a three-year agreement at the end of January, writes Dave McNary in Variety. The DGA represents over 16,000 members. The Alliance of Motion Picture and Television Producers (AMPTP) represents over 350 production companies and studios.
DGA president Paris Barclay praised the negotiating team: "This excellent deal is the result of more than a year of research and preparation, and weeks of tough negotiations led by our Negotiations Co-Chairs Michael Apted and Thomas Schlamme, and our intrepid chief negotiator, National Executive Director Jay Roth."
The DGA said residuals for dramatic programs made for High-Budget Subscription Video on Demand (SVOD) were a focal point of the negotiations. These provisions apply to distributors that include Netflix, Amazon and Hulu. The DGA said its new contract language on streaming "more than triples residuals for members working on original content in the highest subscriber tier, while also allowing new and emerging entrants to the market the opportunity to grow as they develop their services." The guild also said the deal establishes residuals payments for high-budget feature-length projects.
The new deal also includes base wage increases of 2.5 percent in the first year of the agreement and 3 percent in the second and third years. The DGA added that the employer contribution rate to the pension plan will increase by one-half percent in the first year of the agreement.
Roth announced his retirement after 22 years, in January.
Few Want ACA Repealed without Replacement
As Congress struggles to find a way to repeal and replace the Affordable Care Act (ACA) — aka Obamacare — a Kaiser Poll finds that 20 percent of Americans support repeal alone, while a surprising three-quarters of those polled either oppose repeal altogether (47 percent) or want to wait before repealing the law until the replacement plan's details are better known (28 percent), write Rakesh Singh and Craig Palosky for the Kaiser Family Foundation in January.
Overall, the poll finds that nearly equal shares say that the new Congress should vote to repeal the law (49 percent) or that it should not vote to repeal it (47 percent), which roughly reflects the public's overall views of the 2010 law (46 percent don't like it, 43 percent like it).
The public ranks health care as a top issue for President Trump and the new Congress, but not the most important. About one in five (19 percent) name health care when asked about their top issue for 2017, behind jobs and the economy (24 percent) and immigration (20 percent).
Among health-care priorities, three out of five (61 percent) say lowering the cost of prescription drugs should be a "top priority," while the next most highly ranked issue is the prescription pain-killer addiction epidemic (45 percent), then repealing Obamacare (37 percent).
About half of Republicans (53 percent) prefer limiting federal health spending and giving states and individuals more control. The majority of Democrats (79 percent) and independents (65 percent) prefer guaranteeing a certain level of coverage for seniors and lower-income Americans — even if it means a bigger role for the federal government and increased federal spending.
'Freedom Caucus' Wants to Roll Back Rules
Donald Trump was expected to face immediate pressure to implement a variety of conservative policy proposals designed to erase much of President Obama's legacy, writes Ben Jacobs in The Guardian.
The so-called "Freedom Caucus" in the House of Representatives, considered the most ardent conservatives on Capitol Hill, hope Trump's anti-establishment campaign can now be a sign that the President will embrace its agenda to roll back the modern regulatory state.
The caucus announced an extended wish list, detailing 228 regulations and executive orders that they would like to see the president revoke immediately after taking office. Prominently included in the list are Climate Change, Net Neutrality and Labor.
The "Freedom Caucus" joins Department of Labor Secretary nominee Andrew Puzder in proposing to revoke rules to expand eligibility for overtime pay, treating independent contractors as employees under labor law, and waiving the requirements of the Davis-Bacon Act, which requires federal contractors to be paid "a prevailing wage," adds Jacobs.
NBA Agrees to New Labor Deal
At a time of popularity and prosperity for professional basketball, the players' union and the National Basketball Association reached an accord on a seven-year collective bargaining agreement that establishes labor peace through the 2023-24 season, writes Scott Cacciola in The New York Times.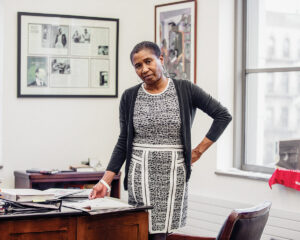 The players agreed to a 51 percent share of basketball-related income, roughly the share that they have under the current agreement. But revenue has increased in recent seasons, thanks to a new television deal that will generate an average of $2.66 billion in annual payments through the 2024-25 season.
The average player salary is expected to be $8.5 million in the 2018 season, and $10 million by 2020-21. As for the schedule — a topic of increasing concern among players, coaches and league officials — the league will reduce the numbers of instances in which teams play games on consecutive days, a dreaded situation known as a "back-to-back." Under the new agreement, the regular season would start a week earlier to allow for more days off. The number of exhibition games also would be reduced.
This was the first labor deal with Michele Roberts as the head of the union and Adam Silver as the league's commissioner. Roberts' negotiations with Silver were notable for their lack of public acrimony, considering the huge pile of money they were divvying up.
Despite not having a background in labor relations or in basketball, Roberts was immediately a strong presence for the players, questioning the league's business structure. As the first female head of a major sports union, she showed that she was willing to challenge the league. When she pitched her candidacy for head of the union, she told the players, "My past is littered with the bones of men who were foolish enough to think I was someone they could sleep on."
After chalking up approvals from both sides in late December, the deal goes into effect on July 1.
Six Retailers Agree to Stop On-Call Scheduling
New York Attorney General Eric Schneiderman, along with attorneys general from seven other states and the District of Columbia, announced in December that six major retailers have agreed to stop using on-call shift scheduling, following an inquiry by the multi-state coalition of AGs, according to a press release from the Retail, Wholesale and Department Store Union (RWDSU).
An estimated 50,000 workers nationwide will benefit from the agreements to end the burdensome scheduling practice, which requires employees to call their employers — typically an hour or two before a scheduled shift — to find out if they will be assigned to work that day.
The six companies (Aeropostale, Carter's, DavidsTea, Disney, PacSun and Zumiez) were among 15 large retailers who received a joint inquiry letter from the nine attorneys general in April 2016 seeking information and documents related to their use of on-call shifts. These six companies reported that they were using on-call shifts, but after discussions with the AGs' offices, all agreed to stop doing so, and none are currently using on-call shifts.
In addition to ending on-call shifts, four of the companies — Carter's, Disney, DavidsTea and Zumiez — all committed to providing employees with their work schedules at least one week in advance of the start of the workweek. Such advance notice allows employees to plan ahead to cover child care and other obligations.
"On-call shifts are not a business necessity and should be a thing of the past," said Schneiderman. "People should not have to keep the day open, arrange for child care and give up other opportunities without being compensated for their time. I am pleased that these companies have stepped up to the plate and agreed to stop using this unfair method of scheduling."