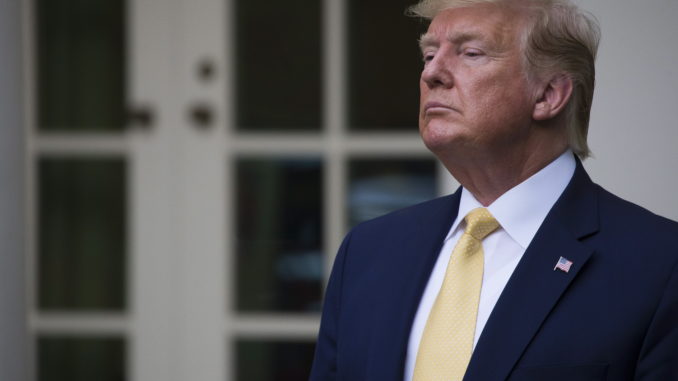 Reprinted from Deadline Hollywood by Bruce Haring On July 14, 2019.
Reactions to [Sunday's] Twitter remarks from President Donald Trump, who advised the Congresswomen known as "The Squad" to "go back" to their countries, is setting social media aflame.
The remarks from celebrities, politicians, regular people and media are mounting, with Twitter spawning the trending #RacistInChief hashtag to collect them.
House Speaker Nancy Pelosi has already made her remarks defending the four – Representatives Alexandria Ocasio-Cortez, Ilhan Omar, Rashida Tlaib and Ayanna Pressley — regarding Trump's tweets, in which he said they should ​"fix the totally broken and crime infested places from which they came,​" then return to the US and show how it's done.
Alexandria Ocasio-Cortez, Ayanna Pressley, Rashida Tlaib and Ilhan Omar have responded via Twitter to the remarks. …
Trump's Tweet was Condemned as Racist. His Response: No, They're the Racists.
Reprinted from The New York Times by Eileen Sullivan on July 15, 2019.
President Trump on Monday increased his attacks on four first-term Democratic congresswomen and warned the party about uniting "around the foul language & racist hatred spewed" from the American women whom he recently told to "go back" to their own countries.
Instead of walking back his remarks, Trump demanded that the four congresswomen, Representatives Alexandria Ocasio-Cortez of New York, Ilhan Omar of Minnesota, Rashida Tlaib of Michigan and Ayanna Pressley of Massachusetts, issue their own apologies to him and "the people of Israel." Omar is the only one of the four who was born outside the United States.
"So many people are angry at them & their horrible & disgusting actions!" he wrote.
Few Republicans have responded to Trump's comments, widely seen as racist. On Monday, Senator Lindsey Graham, Republican of South Carolina, encouraged Trump to "aim higher," while also calling Ocasio-Cortez and the other three lawmakers communists. …
Krugman: 
Racism Comes Out of the Closet
Reprinted from The New York Times by Paul Krugman on July 15, 2019.
"In 1981 Lee Atwater, the famed Republican political operative, explained to an interviewer how his party had learned to exploit racial antagonism using dog whistles," writes Paul Krugman in The New York Times. "'You start out in 1954 by saying "Nigger, nigger, nigger."' But by the late 1960s, "that hurts you, backfires." So you say stuff like, uh, "forced busing, states' rights," and all that stuff, and you're getting so abstract. Now, you're talking about cutting taxes, and all these things you're talking about are totally economic things and a byproduct of them is, blacks get hurt worse than whites.'
"Well, the dog whistle days are over. Republicans are pretty much back to saying 'Nigger, nigger, nigger.'
"As everyone knows, on Sunday Donald Trump attacked four progressive members of Congress, saying that they should 'go back and help fix the totally broken and crime infested places from which they came.' As it happens, three of the four were born in the US, and the fourth is a duly naturalized citizen. All are, however, women of color. …
"This should be a moment of truth for anyone who describes Trump as a 'populist' or asserts that his support is based on 'economic anxiety.' He's not a populist, he's a white supremacist. His support rests not on economic anxiety, but on racism. …