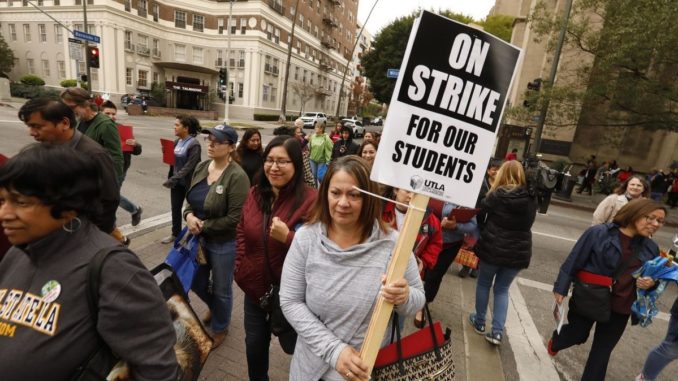 Reprinted from The Hollywood Reporter by Jonathan Handel on January 11, 2019.
SAG-AFTRA, IATSE, the Teamsters and musicians union issued statements, but the WGA and DGA were silent.
If Los Angeles teachers walk off the job Monday as planned, they'll have the support of at least four entertainment unions. SAG-AFTRA, IATSE, the Hollywood Teamsters and Local 47 of the American Federation of Musicians have all told THR that they will support the United Teachers Los Angeles union if they strike.
Two other key Hollywood unions, the Writers Guild and Directors Guild, did not respond to a request for comment. A host of non-entertainment unions supported the WGA in its 2007-08 strike by attending a large rally Nov. 20, 2007, but it was not immediately possible to determine whether UTLA was among them.
A labor stoppage would idle a reported 30,000 teachers in the nation's second-largest school district, unless negotiations Friday or over the weekend produce a breakthrough. …
"IATSE supports L.A. teachers in their fight for smaller class sizes, fair wages and more nurses and counselors," said international president Matt Loeb. "Staff from the West Coast Office will be joining the picket lines at schools in their communities, and many IATSE local unions have encouraged their staffs to do the same." …