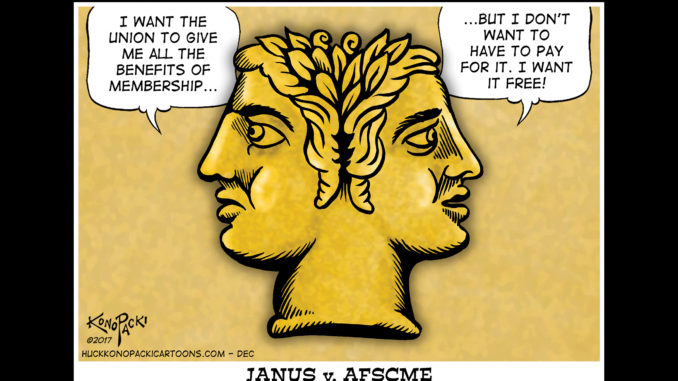 compiled by Jeff Burman
As organized labor was left fuming after the Supreme Court's late June decision in Janus v. AFSCME that public service employees don't have to pay union "agency fees," Hollywood guilds planted a flag of defiance, writes Erik Pedersen in Deadline Hollywood.
The high court had struck down an Illinois law that mandates non-union workers pay fees toward collective bargaining. In his majority opinion, Justice Samuel Alito wrote, "It is hard to estimate how many billions of dollars have been taken from non-members and transferred to public-sector unions in violation of the First Amendment. Those unconstitutional exactions cannot be allowed to continue indefinitely."
In an impassioned dissent, Justice Elena Kagan wrote, "The First Amendment was meant for better things."
Here is what Hollywood unions were saying.
IATSE President Matt Loeb:
"This terrible decision is a sign of our times and the political mess in which we find ourselves. Soon all working people, not just those in the public sector, will face the ramifications of the Supreme Court's actions, in the form of diminished bargaining rights and weaker contracts.
"This is a dark day for all of organized labor, but we can and we must continue to press back against this ongoing assault. We must continue to grow and strengthen our unions through organizing, no matter what the laws are. We didn't need permission to fight back against the robber barons of the Gilded Age, and we do not need it to fight back against the robber barons of today."
SAG-AFTRA President Gabrielle Carteris:
"The Court made the wrong decision; a decision in favor of increasing the power of employers at the expense of their workers. Without engaged workers, union protections become more vulnerable. This ruling is a direct attempt to weaken unions, the very organizations who allow workers to speak together as one, to have a voice in their wages, their safety at work, and their healthcare and retirement. The Supreme Court's decision directly overturns a decision made by the Court in 1977. This shameful decision only serves to strengthen our resolve to find ways to protect working families in this country."
WGA East Press Release:
"We should harbor no illusions about this terrible decision: It was the product of raw power politics, not constitutional deliberation. The Koch brothers and their hard-right-wing allies have spent hundreds of millions of dollars in recent decades to undermine the ability of working Americans to fight for themselves, to have a voice on the job, to win terms and conditions of employment that make it possible to support a family and pay the bills. Score one for the plutocrats, who have won an ugly victory at the expense of the people who build our roads and teach our children and fight our fires."
Actors' Equity Executive Director Mary McColl:
"The Supreme Court issued a decision that is a blatant attempt to take away the freedom of working people to join together in union. Equity stands with our brothers and sisters across the country who are fighting against a system that is rigged in favor of special interests and big corporations. We will organize. We will hold our elected officials accountable. And we will fight back against efforts to divide us. Every working American has had their lives made better by labor unions. We will not rest while the American worker is being attacked."
The final word should go to Siobhan Dugan, who wrote a Letter to the Editor in The Washington Post. She wrote, "Mark Janus doesn't want to belong to a union or pay 'agency fees' to the union to cover collective bargaining costs. All well and good, but one would hope that he will avoid the hypocrisy of accepting any raises or taking advantage of benefits that result from the collective bargaining he hasn't paid for."
Jerry Brown Keeps CA Tax Credits Alive Until 2025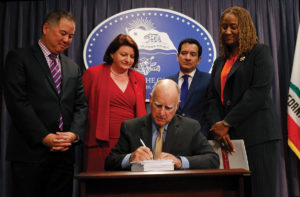 With just a few months to go before his successor is elected, California Governor Jerry Brown in late June bestowed a gift to Hollywood with the signing of his last round of legislation to continue a $330 million film and television tax credit program, writes Dominic Patten in Deadline Hollywood.
While signing the $201 billion budget in Los Angeles, Brown commented obliquely on the extension of the program until 2025. "When I took office back in 2011 with the state facing a $27 billion deficit, I pledged to work with the legislature to fix California's financial mess," the governor said as the budget and SB 871, which extends the tax credits, were signed. "Today, the final budget I sign delivers on that pledge and prepares us for the future."
The $100-million-a-year program, begun in 2009, was never a stated priority for Brown, who has been famously focused on Northern California. It succeeded in avoiding blockbusters and emphasized employment. The program, adds Patten, has been steadily bringing production back home to Hollywood from other states and countries.
Netflix Fires CCO Over Racial Slur
The chief executive of Netflix fired the company's chief communications officer in late June after he "showed unacceptably low racial awareness and sensitivity" in using a racial epithet in the workplace, according to a company memo, it was reported by Christopher Mele in The New York Times.
The chief executive, Reed Hastings, recognized the contributions of the communications officer, Jonathan Friedland, saying he helped to strengthen Netflix's brand around the world and helped make it successful.
But that accomplishment was not enough to outweigh his workplace behavior.
"Unfortunately, his lack of judgment in this area was too big for him to remain," Hastings wrote.
DGA: Minority Directors Decline, Women Gain
The Directors Guild examined 651 live-action films released theatrically in the United States — documentaries, animated films and re-releases were not included — and found that 12 percent of their directors were women, writes Cara Buckley in The New York Times. The DGA modified its pool of data to see how many minorities were directors, since films that were not signatories did not report reliably.
The DGA survey got its data on minorities from the 145 films that made $250,000 or more and were union signatories. That 10 percent of those directors were people of color represented a drop from 17 percent in 2013. Saying that discrimination is "still rampant" in the film industry, the DGA released its second report on Feature Film Diversity on June 21, which found that 9.7 percent of live-action American films with box office takes of at least $250,000 were directed by minorities last year. This figure is a five-year low and a significant drop over the last five years.
Female directors did better than ever before in the same span of time, adds David Robb on Deadline Hollywood. The number of female directors doubled compared to their level in 2013. According to the report, 22 women directed 12.2 percent of all feature films last year that grossed more than $250,000. But as a percentage of the nation's population, they're still more under-represented than minority directors. Visit www.dga.org to read the report.
"It's outrageous that we're once again seeing such a lack of opportunity for women and people of color to direct feature films," DGA president Thomas Schlamme said. "Our new study shows that discriminatory practices are still rampant across every corner of the feature film business. These numbers hit home how the chips are stacked against women and people of color. We dug into our proprietary data to see if we could isolate areas that were bright spots or especially problematic. But as we kept going, it became clear that no matter how you slice the 2017 numbers, the outcome is virtually the same."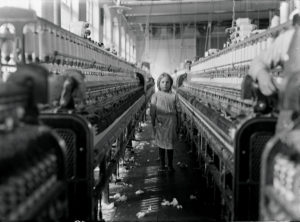 White House Proposes Relaxing Child Labor Laws
President Donald Trump's Department of Labor has officially sent the White House a proposal to allow teenagers to "spend full days operating chainsaws and meat slicers and working in other dangerous occupations," writes Jake Johnson in Common Dreams. The Trump White House has conducted a "broad and relentless effort to roll back longstanding workplace safety regulations that have drastically reduced on-the-job injuries and deaths over the last several decades," adds Johnson.
The proposal to loosen child labor restrictions has been denounced by workers rights advocates, lawmakers, and former DOL officials, and is "one procedural hurdle from public release," reports Ben Penn of Bloomberg Law. 
Worker Testifies Tesla Stopped Union Organizing
A Tesla employee organizing a union was asked by a supervisor and company security guards to leave the factory after handing out pro-union flyers, the worker said at a National Labor Relations Board hearing in early June, according to Reuters. The NLRB was interested in whether Tesla had violated federal safeguards for employee activity.
The NLRB general counsel brought the case before an administrative law judge after receiving complaints from three Tesla workers and the United Automobile, Aerospace and Agricultural Implement Workers of America (UAW).
"What we see is a very heavy-handed, anti-union campaign that's affected all levels of workers' everyday lives," said Margo Feinberg, attorney with Schwartz, Steinsapir, Dohrmann & Sommers in her opening remarks for the UAW, which supports the NLRB in the case.
If Tesla loses, the company could be required to notify its employees that it was found to be committing unfair labor practices, a victory for union organizers.
AMPAS Invites 928 New Members in Diversity Push
The Academy of Motion Picture Arts and Sciences announced in late June that it had invited 928 new members from 59 countries to join its organization, according to Reuters, marking its biggest diversity drive after years of criticism of its mostly white and male membership. Thirty-seven of the new invitees are Editors Guild members.
If everyone invited accepts, female membership would rise to 31 percent from the current 28 percent, the Academy said. People of color will increase to 16 percent from 13 percent.
Total membership would stand at more than 7,000 actors, writers, directors, editors, executives and others. A lack of diversity within the Academy has long been seen as a barrier to racial inclusion in the group that bestows Hollywood's highest honors. In 2016, the Academy responded by pledging to double female and minority membership by 2020.
The invited picture editors are Lillian Benson, ACE; Ken Blackwell, ACE; Anita Brandt Burgoyne, ACE; Matt Chessé, ACE; Andrea Chignoli; Jon Gregory, ACE; Clare Knight, ACE; Joi McMillon, ACE; Jane Moran; Jill Savitt, ACE; Plummy Tucker, ACE; and Sidney Wolinsky, ACE.
The sound editors and mixers are Dan Abrams; David Acord; Michael Babcock, CAS; David V. Butler; Patrick Cyccone, Jr.; Ruy Garcia, MPSE; Joan Giammarco; Joel Iwataki; Jason W. Jennings; Jason King; Marissa Littlefield; Mary Ellen Porto, MPSE; Jill Purdy; Christian Schaanning, MPSE; Julian Slater; Unsun Song; John C. Stuver, MPSE; Tim Walston, MPSE; and Martyn Zub, CAS, MPSE.
The music editors in AMPAS' Music Branch include Joe Bonn; Stephanie Lowry; Jen Monnar; Melissa Muik; Steven A. Saltzman, MPSE; and Jeanette Surga. Congratulations to all!