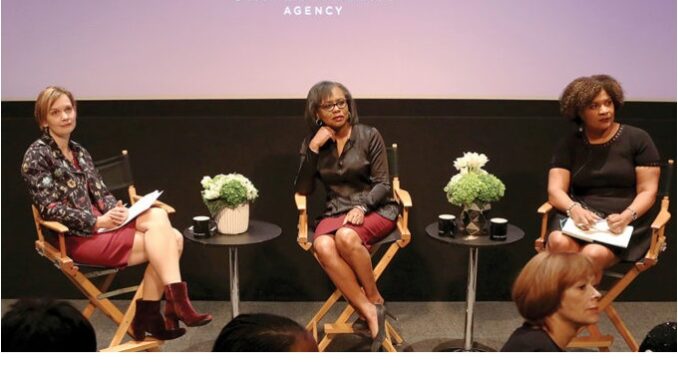 compiled by Jeff Burman
Driven by outrage and a determination to correct a power imbalance that seemed set in stone just a few months ago, prominent Hollywood women took matters further. Some 300 female actors, agents, writers, directors, producers and studio executives formed an ambitious, broad-based initiative to fight systemic sexual harassment in Hollywood and beyond, writes Cara Buckley in The New York Times in January.
The initiative proposes:
A legal defense fund, backed by $13 million in donations, to help ordinary working women protect themselves from sexual misconduct and the blowback from reporting it.
Legislation to penalize companies that tolerate known, persistent harassment, and to discourage the use of nondisclosure agreements to hinder victims.
The campaign is called Time's Up, and included an ardent pledge of support to working-class women in an open letter signed by hundreds of women in show business, many of them A-listers. It appeared in The New York Times, and in La Opinión, a Spanish-language newspaper.
2017 Box Office Tops $11 Billion
According to end-of-year figures from ComScore, the 2017 domestic box office for the year ending December 31 totaled $11.12 billion, writes Anthony D'Alessandro in Deadline Hollywood. This is the third-best amount ever tallied, and the third time that annual box office totals have crossed the $11 billion threshold.
Tellingly, ticket sales for 2017 were down 2.3 percent from last year's $11.4 billion, which was an all-time domestic record. The strongest performer among studios was the Walt Disney Company, which grossed $2.4 billion in combined US/Canada ticket sales, marking a 21.6 percent marketshare.
'LA Times' Journalists Vote 248-44 to Unionize
Journalists at the Los Angeles Times have overwhelmingly voted to join a union — a first for the 136-year-old news organization that for the majority of its history was known for its firm opposition to organized labor, writes James Koren in the Los Angeles Times.
The organizing campaign was launched in October and concluded in an election in early January. The results, tallied by the National Labor Relations Board, showed 248 of 292 workers voted to be represented by the Washington, DC-based NewsGuild-Communications Workers of America.
A staff organizing committee of 44 Times journalists had called for workers to unionize after years of corporate turnovers, advertising declines and cutbacks that have reduced the newspaper's staff from more than 1,000 in the late 1990s to fewer than 400 now. Organizers said they will bargain for job protections, salary increases and equal pay.
Rose Marie: When I Publicly Shamed My Harasser
Actress Rose Marie, who became a radio star as a toddler in the 1920s and a television star on the hit sitcom The Dick Van Dyke Show in the 1960s, died in late December in the Van Nuys neighborhood of Los Angeles, writes Alison Peterson in The New York Times. She was 94.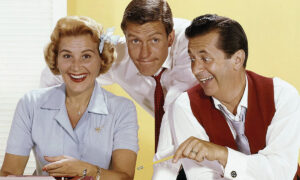 Originally known by her stage name, Baby Rose Marie, Rose Marie Mazzetta is probably best remembered for her Dick Van Dyke Show role as Sally Rogers, one of three comedy writers — the others being Rob Petrie (Van Dyke) and Buddy Sorrell (Morey Amsterdam). They worked for the fictional series-within-a-series, "The Alan Brady Show" (Brady was portrayed by Carl Reiner, the series' creator and writer). One inspiration for the Sally Rogers role was said to be Selma Diamond, who wrote for Sid Caesar in the 1950s.
Rose Marie was not unmoved by the #MeToo saga swirling around Hollywood. "I started in this business when I was three," wrote Rose Marie in The Hollywood Reporter. "From the beginning, I was co-starring or headlining with the major male and female acts of the day, and all of them treated me wonderfully and respected me and my talent. I believe because of how I began, I always walked into a job or an audition assured of my talent and expected to be treated like a lady and an equal.
"With one exception, I always was. That one exception taught me what was happening to other women in the business. It occurred when I was about to wrap filming on the 1954 musical Top Banana. The producer of the film came up to me after I'd run through the song called 'I Fought Every Step of the Way,' which had boxing references, and said that he could show me a few positions. He wasn't referring to boxing.
"I laughed it off, but he said he was serious and that the picture could be mine. Well, in front of everyone onstage, I said, 'You son of a bitch, you couldn't get it up if a flag went by.' Needless to say, that didn't go over well with him, and all my musical numbers were cut from the film. I had no idea that his reaction to my refusal would be so bad."
NLRB Overturns Obama's Pro-Labor Decisions
It didn't take long for the National Labor Relations Board to act on the advice of Peter Robb, its new general counsel, and upset multiple precedents put in place by the prior Democratic majority board, writes Parker Poe for JD Supra in early January. In a series of 3-2 decisions, the new Trump-era NLRB majority threw out cases that frustrated employers, while signaling its intention to make other changes that would restore interpretations of the National Labor Relations Act going back to the George W. Bush era. If upheld, these decisions will have a significant impact on unionized and non-unionized employers.
On December 14, the NLRB overturned its 2015 Browning-Ferris decision, which considered two companies to be joint employers and liable for each other's labor practices if one company exercises the right to control the practices of the other.
This decision will likely end the NLRB's attempts, for example, to hold a franchisor liable for labor law violations by its franchisee unless there is evidence that the franchisor controls those practices. Interestingly, even under the revised standard, the board majority concluded that the employer in the Hy-Brand test case did exercise the required control to be deemed a joint employer.
Ian McKellen on 'Wrongful' Accusations
Academy Award-nominated actor and advocate for equality Sir Ian McKellen recently took issue with the numerous sexual harassment allegations running through the industry, saying that wrongful accusations can have an impact, writes Dino-Ray Ramos in Deadline Hollywood. McKellen remembered that earlier in his career, many women would have sex for acting roles.
During a talk at Oxford Union, according to The Daily Mail, McKellen acknowledged victims for coming forward about sexual harassment, saying "It's sometimes very difficult for victims to do that." He added, "I hope we're going through a period that will help to eradicate it altogether."
He then went on to share his own experiences from the early 1960s. "The director of the theatre I was working at showed me some photographs he got from women who were wanting jobs," he said. "Some of them had at the bottom of their photograph 'DRR' — directors' rights respected. In other words, if you give me a job, you can have sex with me." He pointed out how that was commonplace, and called it "madness."
Maintaining his support of the victims, he went on to discuss being cautious about the accusations flooding Hollywood lately. "I assume nothing but good will come out of these revelations, even though some people get wrongly accused; there's that side of it as well," he said.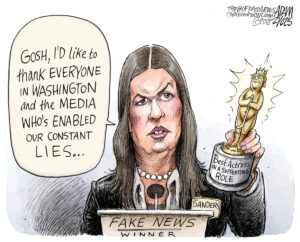 The FCC Kills Net Neutrality
Despite overwhelming opposition from Congress, technical experts, advocacy organizations and the American people, the Federal Communications Commission has voted to eliminate 2015's Open Internet Order and the net neutrality protections it established, writes Devin Coldewey in TechCrunch in mid-December.
The order passed removes the FCC as a regulator of the broadband industry and shifts rules that prevented blocking and "throttling content" to the honor system. The Federal Trade Commission now ostensibly has that role, but it is far from an expert agency on this topic and cannot make pre-emptive rules like those that have been in place for the last few years, adds Coldewey.
As expected, the vote was 3 to 2 along party lines, with Chairman Ajit Pai and Republican Commissioners Brendan Carr and Michael O'Rielly voting in favor of the order, and Democratic Commissioners Mignon Clyburn and Jessica Rosenworcel voting against.
The ACLU released a statement calling the "misguided" decision "a radical departure that risks erosion of the biggest free speech platform the world has ever known."
"Today's loss means that telecommunications companies will start intruding more on how people use the Internet," said Jay Stanley, senior policy analyst for the group. "Internet service providers will become much more aggressive in their efforts to make money off their role as online gatekeepers."
Teamsters to UPS: No Drones or Driverless Trucks
The Teamsters union will negotiate to prohibit United Parcel Service Inc. from using drones and driverless vehicles to deliver packages, writes Paul Ziobro in The Wall Street Journal.
That was one of the union's demands as it started its high-stakes contract talks with UPS in late January. The Teamsters also want UPS to drop late-night deliveries and add another 10,000 workers to its ranks, among other demands.
The two sides are looking at one of the largest collective bargaining agreements in the country, covering about 260,000 UPS employees. The International Brotherhood of Teamsters' National Negotiating Committee submitted an 83-page proposal updating the current contract, which expires in July.
Both sides declined to comment on the new proposals. Over the past five years, online sales have exploded, adding business for parcel-delivery companies like UPS, Federal Express Corp. and the US Postal Service, as they deliver billions of packages to homes.