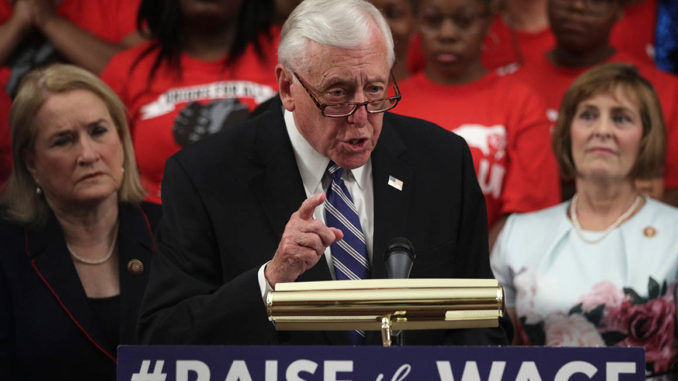 Reprinted from Politico by Sarah Ferris on July 18, 2019.
The House on Thursday passed legislation to gradually raise the federal minimum wage to $15 per hour, following through on a key Democratic campaign promise and ending a six-month struggle within the caucus.
The vote — which passed largely along party lines — marked a crucial test for Democratic leaders who worked hard to win over centrists without losing progressives as lawmakers battled behind the scenes to shape the proposal.
It also delivers a much-needed policy win for a party that has long called for a "living wage" and is eager to tout its domestic agenda during the upcoming summer recess after a slew of high-profile intraparty fights.
"All of America is going to be advantaged," House Majority Leader Steny Hoyer said to robust applause at a press conference with lawmakers and union workers before the vote. "They're going to buy groceries, they're going to buy clothes, they're going to buy things they need." …
After House Passes $15 Minimum Wage Bill, Bernie Sanders Demands McConnell Let Senate Vote
Reprinted from Common Dreams by Jon Queally on July 17, 2019.
After the Democratic-controlled US House of Representatives passed a "historic" piece of legislation Thursday that would raise the federal minimum wage from its current $7.25 up to $15, Senator Bernie Sanders immediately called on Senate Majority Leader Mitch McConnell to allow that chamber to vote on the companion bill.
Recalling how his original bill proposing a $15 federal minimum wage, first introduced in 2015, was at the time dismissed as an "impossible dream," Sanders in a statement thanked "a strong grassroots movement led by millions of fast food workers and the SEIU" for securing passage of the Raise the Wage Act of 2019—introduced by Representative Mark Pocan, the Democrat from Wisconsin who co-chairs the Congressional Progressive Caucus.
"Today," said Sanders, "I am proud to say that a $15 minimum wage has gone from laughable to inevitable."
With his own version of the bill languishing in the Senate, Sanders called on McConnell to "bring my $15 an hour legislation to the floor for a vote as soon as possible." …