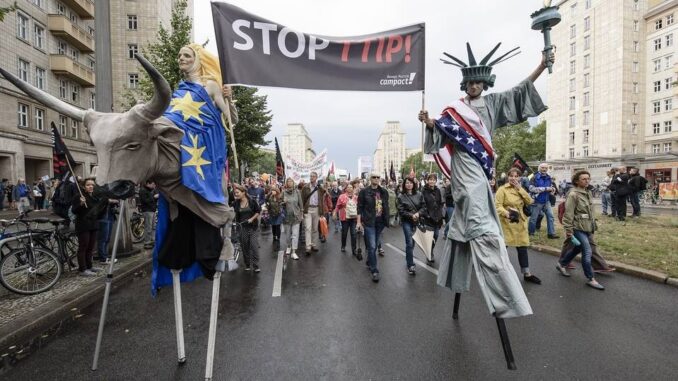 Reprinted from The Wall Street Journal by Steven Norton September 18, 2016.
Hundreds of thousands of people marched through seven German cities Saturday to protest against the European Union's planned trade pacts with the U.S. and Canada, highlighting mounting public backlash against the bloc's trans-Atlantic trade policies.
Demonstrators took to the streets of Berlin, Hamburg, Cologne, Frankfurt, Leipzig, Stuttgart and Munich to show their dissatisfaction with the proposed pacts, which they say are anti-democratic and threaten food, environmental and labor-safety standards.
About 320,000 people participated in Saturday's demonstrations, organizers said, while police tallies counted fewer.
The protests came just days before Germany's center-left Social Democratic Party, led by German Vice Chancellor Sigmar Gabriel, are set to meet in Wolfsburg to discuss their position on the EU-Canada Comprehensive Economic and Trade Agreement, known as CETA. …