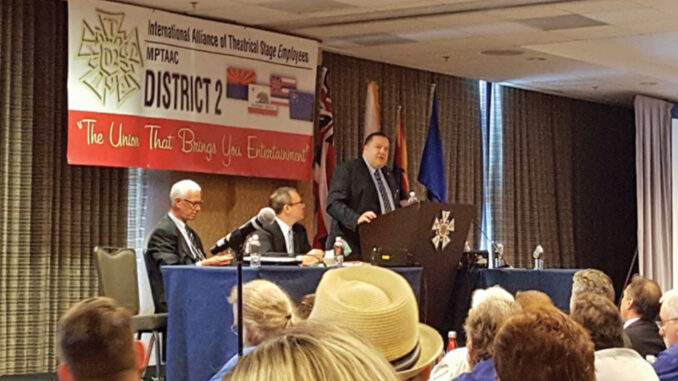 by Jeff Burman
Over the weekend of August 5-7 the IATSE held its 72nd District 2 meeting of delegates at the Hilton Bayfront Hotel in San Diego. The IA is divided into 14 regional districts. The IATSE's District 2 includes the states of Arizona, California, Hawaii and Nevada. District 2 conventions rotate through these four states.
The District 2 meeting provides an opportunity for delegates to listen to presentations by IA leaders and to contribute ideas to committees.
District 2 is made up of 49 local unions and has 46,460 members. Some 744 of these are new members. At last count 178 delegates were registered at this District 2 meeting. The IA PAC raised $8,467 including 24 new monthly contributions.
The host local was IA local 122, representing technicians for trade shows, live theater, concerts and audio visual presentations. The District 2 Secretary is Ed Brown, who is also the Business Agent of Local 44, the Affiliated Property Craftspersons, in North Hollywood.
The District 2 meeting provides an opportunity for delegates to listen to presentations by IA leaders and to contribute ideas to committees. It also provides delegates a chance to renew friendships and to learn about what other activists are doing. There are also presentations on leadership. Part of the leadership training looked at the 123 years of the history of the IATSE and how new technologies and new members have always been an essential and ongoing element of this union.
The committees discussed Activism and organizing; Constitution and Bylaws, and internal governance; Diversity, including women's issues; Education and Safety; Finance; Legislation; Memorial; Resolutions; and a new committee on Young Workers.
The Activism Committee pressed for renewed political action, especially in this election year.
The Diversity Committee reminded us of the relative invisibility of minorities and women "below the line." The Committee pledged to be sure as many IA locals as possible create diversity committees. The Committee also sought to raise the issue of pay inequality. It also pledged to lead by example.
The Legislative Committee noted difficulties in Nevada. Many believe it is perilously close to becoming a "right-to-work" state. The committee recommended support for California Assembly Bills 72 and 1010. Until recently AB72 was known as AB533. The bill would protect our members from overbilling for healthcare services provided at "in-network" facilities by "out-of-network" doctors. AB1010 would require prior notice of increased costs for pharmaceutical drugs. The IA will notify California union locals to advocate for these bills.
The Finance Committee recommended a $1 raise in the per capita fee for District 2. The current per capita tax of $3 had not been raised since 2001. No adjustments had been made even for increased costs because of inflation. The delegates approved the increase.
The Memorial Committee remembered the 260 members who died in the previous year. Among others the Committee remembered cinematographers Vilmos Zsigmond and Haskell Wexler, editor Elmo Williams who died at 102, and longtime IA leader Michael Proscia, who died at 87. The Committee also wondered why members may have died. It suggested that at least for some, excessive hours may have been a contributing factor.
District 2 chairman, Michael Miller took a moment of "personal privilege" and acknowledged the long service and accomplishment of the Editors Guild's retiring Executive Director, Ron Kutak.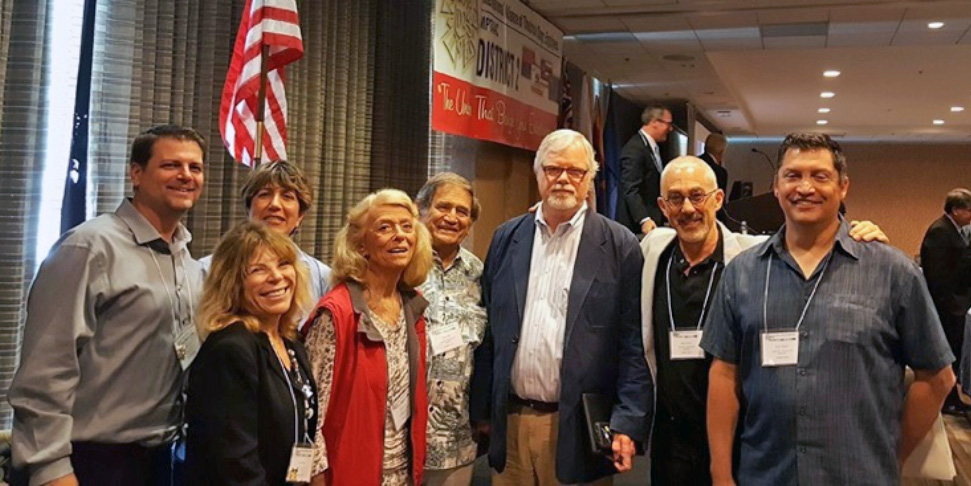 Presentations were given by District Secretary Ed Brown, IA Vice President Thom Davis, IA West Coast Rep Michael Miller and IA president Matt Loeb. There were also presentations by the California Federation of Labor's Exec Secretary-Treasurer Art Pulaski and Assistant Legislative Director Erika Dinkel-Smith.
IA president Loeb reminded delegates of his Four Pillars of Success: Leadership, Skills and Safety, Activism and Communication. Loeb emphasized his commitment to provide training opportunities to enrich these key qualities. Loeb reported the IA has trained 5300 members. He added that the IA is also training OSHA compliance officers and writing its safety standards. In general terms, Loeb reported to the delegates that the IA is growing in its jurisdiction and membership.
He reported growth on Broadway and in new trade show venues in Atlanta. Even when courts declared workers "independent contractors" in Atlanta, the IA mounted a national campaign that led management to take back crews the IA had organized before the adverse court decision. The employers in this case were Live Nation and Spectra Venue Management. Independent contractors were included in the deal. There are now 3500 IA members in the Atlanta area.
Loeb reported organizing successes at the La Jolla Playhouse and the Dolby Theater in Hollywood. Some 500 new IA members were hired by Universal Studios to work at the Harry Potter attraction through local B192.
Loeb acknowledged the reemergence of professional football in Los Angeles and offered a prediction. "We'll be there." Loeb added that the IA had organized the NBA's Indiana Pacers workers. It is also pursuing college sports employees.
On the subject of this fall's presidential election, Loeb said "if the GOP candidate hasn't offended you directly, he's probably offended you by offending them," referring to those insulted by the candidate.
Loeb told delegates that Sharknado 4 is under contract. Sharknado 3 was non-union, despite the IA's efforts.
Looking at the lengthy process of negotiating the Hollywood Basic Agreement, Loeb described efforts to simplify its side-letters and renegotiate its Area Standards. "We're through our cycle," said Loeb. He added that looking ahead to the next negotiating cycle, he understood that the Writers are having issues with the funding of their health plans. Vigilance is the watchword. On new media and new forms of distribution, Loeb said the IA's strategy is to organize by the size of the budget.
Loeb reported that the $8 billion MPIP health plan has a new executive director, by the name of David Asplund.
Loeb told delegates that the visual effects end of the business needs to be organized. Visual Effects is "the only technical trade not under a union contract. They deserve to be union, too."
Loeb also reported that 13 new reality TV shows had been organized. There have also been 504 signatories to the IA's commercial contract.
He talked about appointing a Women's Committee in 2015. The purpose is to identify women's concerns in the labor movement. Knowing this allows the IA to use women's power so it benefits the IA. "There is no IATSE without our women."
On the subject of this fall's presidential election, Loeb said "if the GOP candidate hasn't offended you directly, he's probably offended you by offending them," referring to those insulted by the candidate. GOP nominee Donald Trump has made disparaging comments about women, Mexicans, Moslems, journalists, the handicapped and veterans. Loeb confided that the IA has pictures of candidate Trump crossing an IA picket line. Trump is for "right-to-work" and said that wages are too high. Loeb acknowledged President Obama's efforts to expand workers' rights under the NLRB. Personally, Loeb likes many of the positions that Senator Bernie Sanders stood for and was grateful for Sanders' bringing so many new activists into the fold. He urged Sanders supporters to recognize the urgency of supporting former Secretary of State Hillary Clinton. "Don't sit it out."