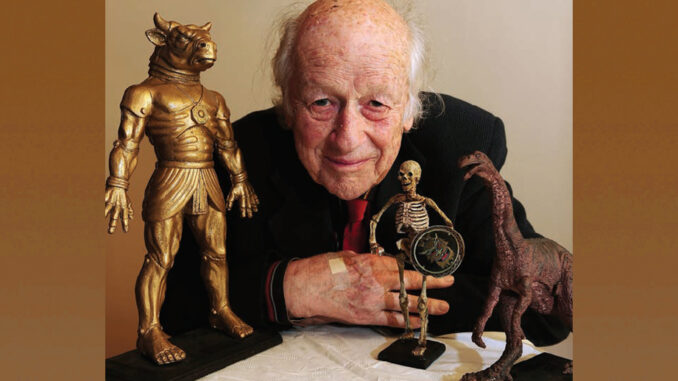 THE WIZARD WHO INSPIRED GEORGE LUCAS, PETER JACKSON AND OTHERS
By Betsy McLane
Many books are described as well-made or lavishly illustrated, but those effusive labels are not adequate to describe the richness of words and images that fills the pages of "Ray Harryhausen: Titan of Cinema." At least 10 books about Harryhausen's work exist, but this imposing volume offers more than any other for two reasons. The first is the gorgeous quality of its production. Published as the catalogue that accompanies a new Harryhausen exhibit at The National Galleries of Scotland in Edinburgh, "Titan of Cinema" meets the high standards of the very best art and museum books. The second reason is that its author is Harryhausen's daughter, Vanessa Harryhausen, who provides an intimate look at the filmmaker, his work, his friends and family, as well as his ongoing influence on cinema.
The Diana and Ray Harryhausen Foundation was set up in 1986 to look after his vast collections. As the Foundation website states, "It is estimated that there are in excess of 50,000 items in the collection, including original armatured models, hard rubber stand-in models, armatures, original moulds, original artwork, original miniatures, stills, negatives, original equipment, paperwork, screenplays, various test and dailies footage, books and many influences, such as paintings and lithographs by Gustav Dore, John Martin and Willis O'Brien." Vanessa, who is a Foundation trustee, selected 100 objects that are meaningful to her for this 2020 exhibition on the centennial of Ray's birth . The combination of her insights with the elegance of its production make "Titan of Cinema" a book to treasure.
Harryhausen's stop-motion animation creations are legendary, and his films are touchstones in the science fiction and fantasy universes. Mythic beings, tigers, skeletons, dinosaurs, alligators, and every sort of monster written into a script—all began life in his imagination, then moved forward through his sketches and storyboards, were made into detailed models, and came to the screen through Harryhausen's ingenious animation techniques. When he died in 2013, the Harryhausen Foundation's Facebook page was studded with tributes. George Lucas said that without Harryhausen, "There would likely have been no 'Star Wars,'" Peter Jackson wrote that "Lord of the Rings" is his "Ray Harryhausen movie." Harryhausen's long list of awards includes a special BAFTA, a star on the Hollywood Walk of Fame, and The Academy of Motion Picture Arts and Sciences' Gordon E. Sawyer Oscar, which "Honors an Individual in the Motion Picture Industry Whose Technological Contributions have brought Credit to the Industry." Tom Hanks presented this award to Harryhausen in 1992 proclaiming, "I say 'Jason and the Argonauts' is the greatest film ever made." "Jason and the Argonauts" (1963) is only one example of his achievements. Other favorites include "The Seventh Voyage of Sinbad" (1958), "One Million Years BC" (1966), and "Clash of the Titans" (1981), all of which are known as Harryhausen films, no matter who directed them.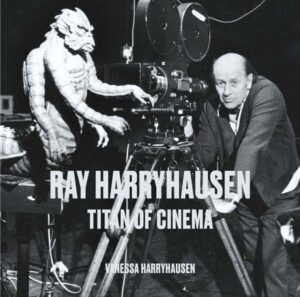 "Titan of Cinema" provides a chronological look at Harryhausen's artistry and the methods he used to achieve it. There are early pencil sketches for individual characters and settings, storyboards, watercolor paintings to indicate colors, "key drawings" in charcoal for central scenes, prototype models, and the finished creatures, usually made of latex on a metal armature. These and other images from the films literally spill across the book's pages. Examples from "Sinbad and the Eye of the Tiger" (1977) include a full-page comparison sketch of four characters standing in a row beside Sinbad, perfectly drawn to make clear their relative sizes. On nearby pages are the glowing gold 44x16x13 cm Minaton model, a production still of actor Peter Mayhew in the Minaton costume, and a close-up of the human-size head Mayhew wore in the film. If this were not enough, there is also a real-life location photograph with trees and wolves painted on it, furry models of a baboon and a sabretooth tiger, and a production still of the crew, shirtless and sunburned, on location in Malta. To see these in a unified collection is noteworthy, but what makes it extraordinary is the commentary by Vanessa Harryhausen. The Minaton is described as a bronze minotaur, a creature of unfathomable strength, powered by a golden heart, who tries to block Sinbad's quest. He is a well-known monster, but only a daughter could tell his further story. Years after this third film in the Sinbad Trilogy was released, "Dad asked me to take care of the Minaton's head that Peter Mayhew had worn for the role…. He suggested that I mount the  head like a hunting trophy, and display it among the stag heads, swords, and targes (shields) that were up on the wall already. The head is made of fiberglass, and so is not particularly heavy—however there are no holes for air or sight, and so I can't imagine what it would be like to wear on location."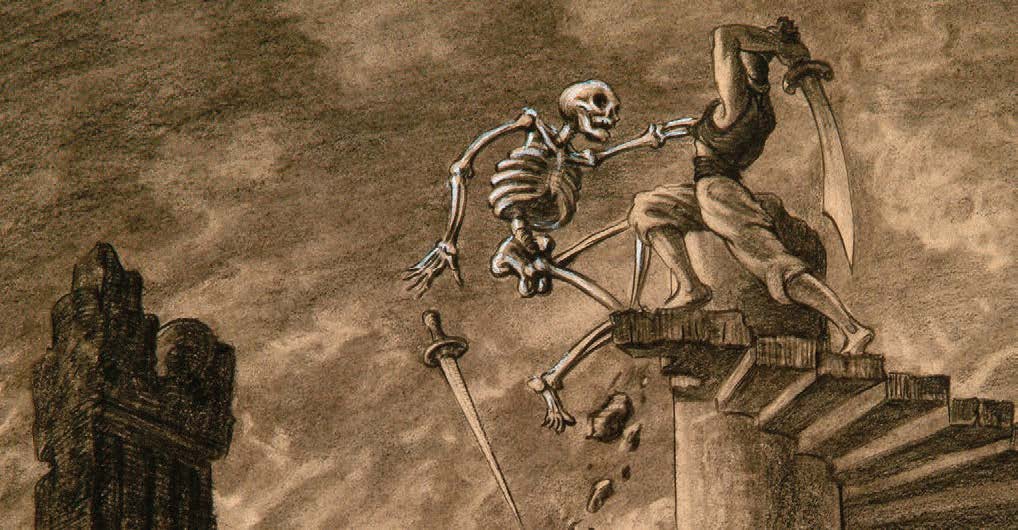 Vanessa was often on movie sets, and her remembrances convey an enchanted childhood.
Growing up, Vanessa was often on movie sets, and her remembrances convey the joyfulness of an enchanted childhood. Family snapshots thoughtfully placed throughout "Titan of Cinema" link the Harryhausen family's lives with Ray's professional work and public image. The care he put into designing and animating the models is paralleled in loving photographs such as one of five-year-old Vanessa proudly and possessively hugging Pinky the elephant model from "The Valley of Gwangi" (1969). Her writing, marked with friendly colloquialisms, offers insight into Harryhausen's working methods and his creations, but also into his friendships, including his decades long bond with childhood buddy Ray Bradbury. The rapport between these two hamburger-loving men is represented in "Titan of Cinema" by a caricature of Bradbury and Harryhausen as Laurel and Hardy and a signed first edition of Bradbury's "A Graveyard for Lunatics," in which the character Ray Holdstrom is based on Harryhausen.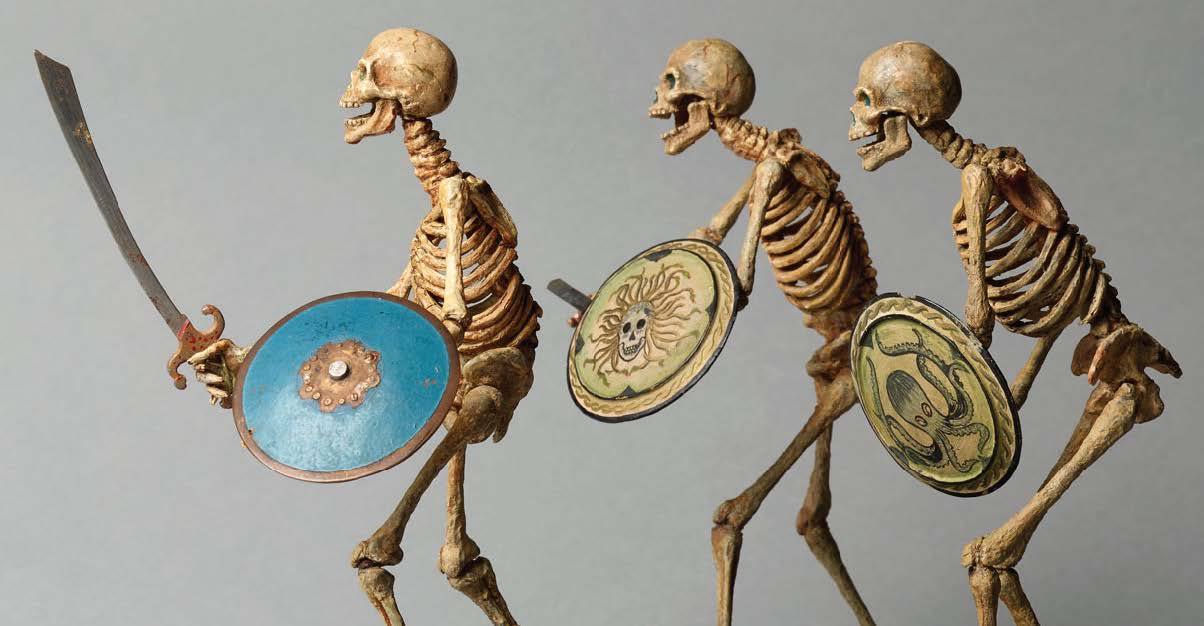 During most of his career, Harryhausen did not reveal much about the techniques he used, in part to make the films truly magical. This book offers up a few of those ingenious secrets, including diagrams of what producer Charles Schneer dubbed, "Dynamation—The New Miracle of the Screen" process, which was used to create scale relationships among the models and live-action footage. There is even a two-page spread showing the oven Harryhausen used to bake the latex models. He mainly worked alone, painstakingly constructing tiny flexible metal parts that could be moved bit by bit, shot by shot, but he also went on location. This was partly to interact with the human actors so that they felt comfortable reacting to characters that were not present, and partly to integrate his vision with the film as a whole. This included being part of the post-production process, and editors played a big part in actualizing the magic. "Titan of Cinema" includes a wedding telegram sent to Ray and Diana by the editing team on "Jason and the Argonauts." The wedding took place during a short break from animating the 33x36x61 cm green hydra model.
The message reads:
HEARTIEST CONGRATULATIONS-STOP URGENT-STOP
PLEASE ADVISE SEEDING TIME
HYDRA "JASON CUTTING ROOM"
It was meant to say, "FEEDING TIME." The hydra was one of the most complex Harryhausen models, given that each of the seven heads moved independently, frame by painstaking frame. As Vanessa writes, "At this time there was no way of tracking the animation which had already occurred, and so he had to remember in which direction each of the seven heads was moving."
A sense of playfulness permeates the book, with its combination of beautifully photographed objects, Vanessa's text, and the added comments of many who worked closely with Harryhausen, making it a delight to read. Its luxurious embossed foldout covers and even the book's paper—Perigord matt deserve recognition. Those who oversaw this coffee table gem deserve notice, so kudos must be properly offered to its photographers, the designers and the editorial/production team, as well as to those at The National Galleries of Scotland who mounted the exhibit. One hopes that a visit to the Galleries in Edinburgh will be possible before the exhibit ends in April 2021, but if not, "Titan of Cinema" is the next best thing.
---
"Ray Harryhausen: Titan of Cinema" By Vanessa Harryhausen
207 pages National Galleries of Scotland 2020