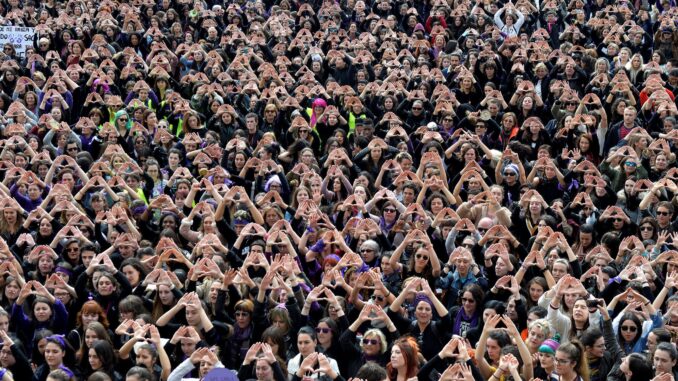 Reprinted from The New York Times by Elisabetta Povoledo, Raphael Minder and Yonette Joseph on March 8, 2018.
In the era of #MeToo and Time's Up, International Women's Day arrived on Thursday with a sense of urgency and determination.
For many women, there was a keen awareness that there had been a major shift in the firmament when it came to gender parity, the treatment of women in the workplace and sexual dynamics.
But others — scratching out lives in developing countries in Africa, toiling away at jobs with little pay in Latin America or scrambling to raise children without help in the Middle East — most likely had little time left over to reflect on the one day of the year designated to celebrate "the social, economic, cultural and political achievements of women," as the website says.
Nonetheless, Margrethe Vestager, the European competition commissioner, said on Twitter: "There is a lot to fight for: Engage! Women and men alike. We need power to make equality a reality." …
International Woman's Day site
Reprinted from The Los Angeles Times by The Associated Press on March 8, 2018.
… On a lighter note, a leading French newspaper found a witty way of making its point about discrimination and the gender pay gap — by upping its price for men. The left-leaning daily Liberation said that for one day only, men would pay 50 euro cents more than women, in a reflection of the 25% less that women in France are paid, on average. …
Hundreds of activists in pink and purple shirts protested in downtown Manila against Philippine President Rodrigo Duterte, calling him among the worst violators of women's rights in Asia. Protest leaders sang and danced in a boisterous rally in Plaza Miranda, handing red and white roses to mothers, sisters and widows of suspects slain under Duterte's crackdown on illegal drugs.
Human rights groups have condemned Duterte's sexist remarks, including one in which he asked troops to shoot female communist rebels in the genitals. Protest leader Jean Enriquez also railed against Duterte's anti-women remarks, saying: "We're so alarmed. We have seen his direct attacks on women under his iron-hand rule, and it's now time to heighten our resistance." …
Teen Vogue: International Women's Day 2018: The History of IWD's Socialist Roots
Reprinted from Teen Vogue by Danielle Corcione on March 8,2018.
As women from all different political backgrounds are coming together to fight back in a new era of misogyny under the Trump administration, a moment of reflection on International Women's Day — celebrated every year on March 8 — provides historical context that present-day feminists can take inspiration from, even 100 years later.
While women from all ends of the political spectrum — some centrist, many progressive, and even some on the right — will fight back against misogyny on International Women's Day in countries all over the world, the day has its roots in anti-capitalist and socialist feminism. In fact, International Women's Day historically has had a remarkably socialist platform, dating back to the early 20th century.
In November 1909, immigrant women in their teens and 20s in New York City began an 11-week strike, or as many labor historians recall it, "the uprising of the 20,000." In her book Women and Socialism, historian Sharon Smith explains that although the strike took more than two months during a brutal winter, the women won recognition for most local factories in Local 25 of the International Ladies' Garment Workers Union. Up until this point, their union had been male-dominated. …