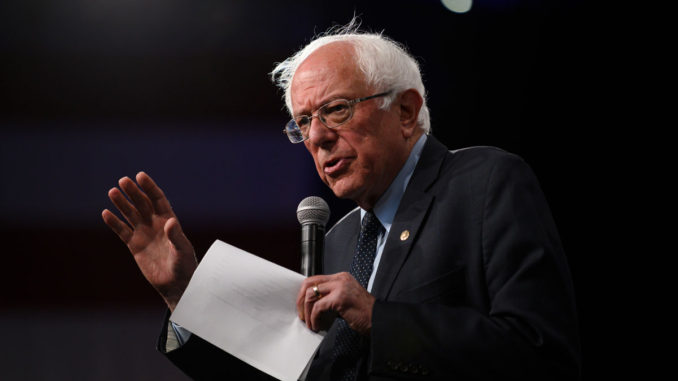 Reprinted from Jacobin by Liza Featherstone on August 23, 2019.
"Bernie Sanders just unveiled the most pro-union platform of any major presidential candidate in decades," writes Liza Featherstone in Jacobin. "At this point, any union that ends up endorsing one of his opponents in the primary over him would be enacting a straight-up Mad Tea Party scenario, as if a coalition of endangered species — say, the giant kangaroo rat, the red wolf, and the fruit bat — were to endorse Trump, who has been steadily weakening protections for such animals.
"Citing the high correlation between declining union membership and rising inequality, as well as the impact on worker safety, healthcare, and retirement security, the Sanders campaign has outlined a clear and specific way to stop the bloodletting of the American labor movement by making it much easier for workers to join unions — and by vastly increasing unions' negotiating power.
"At present, as you know if you've tried to unionize your workplace, getting a majority of workers to sign cards saying they want to join the union is usually just the beginning. That majority ought to carry the day right off the bat since democracy is about majorities, right? But it doesn't. After the cards are collected an 'election' is scheduled, before which the employer may run an intimidating and often mendacious campaign against you and your pro-union co-workers. As the Sanders campaign noted, when workers try to join unions, 75 percent of employers hire outside consultants to run aggressive anti-union campaigns, and 54 percent threaten workers in closed-door anti-union meetings. Workers who try to organize their workplaces have a one in five chance of getting fired. …
Democrats Tweak 'Medicare for All' Pitches Amid Resistance from Unions
Reprinted from The Wall Street Journal by Tarini Parti and Eliza Collins on August 22, 2019.
Democratic presidential candidates supporting a bigger government role in health care are stepping up appeals to union members—a key constituency—who are concerned that a proposed expansion of Medicare would leave them with less-generous benefits than they now enjoy.
Vermont Senator Bernie Sanders, the architect of the Medicare for All proposal that some senators vying for the Democratic nomination have co-sponsored, included in a pro-union plan he released this past week a section intended to entice union members to support his health-care proposal.
The Sanders provision would require that any savings employers receive when they switch from union-negotiated health-care plans to Medicare for All be given back to members in the form of increased wages or other benefits. The process would be overseen by the National Labor Relations Board. The campaign also highlighted language from his Senate bill that would allow people to get private health insurance for care not covered under Medicare for All. …