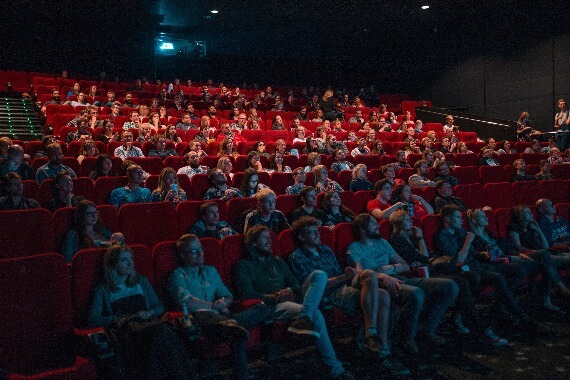 Reprinted from Jacobin by Meagan Day on December 24, 2019.
"December is huge for the entertainment industry," writes Meagan Day in Jacobin. "It's the biggest month of the year for tentpole flicks like this year's Star Wars: The Rise of Skywalker and … Academy Awards hopefuls, like Greta Gerwig's rising-star-studded remake of Little Women and Uncut Gems, a crime drama unexpectedly starring Adam Sandler.
"There's a decent chance you and yours will head to see one of these on Christmas Day. In fact, the theaters and studios are banking on it. They know that few other businesses are open on Christmas, and that people who have the day off are looking for entertaining group activities to pass the time. Every year, in an attempt to take advantage of the trend, several movies are released on Christmas Day itself.
"But here's the rub: many hourly theater employees don't get the option of taking Christmas off, and they don't get extra pay either. Christmas is, literally, no holiday for many theater workers.
"AMC Theatres is the nation's largest movie theater chain, employing almost forty thousand full- and part-time workers. This holiday season, the chain has been slapped with a petition boasting over seven thousand signatures calling on the company to change its two-tier holiday pay structure.
"Current policy stipulates that managers and supervisors receive time-and-a-half pay for working on Christmas Day, while hourly workers are just expected to show up and work for their normal rate. Hourly workers say this isn't fair. 'We do the same, if not more, than management,' reads the petition. …