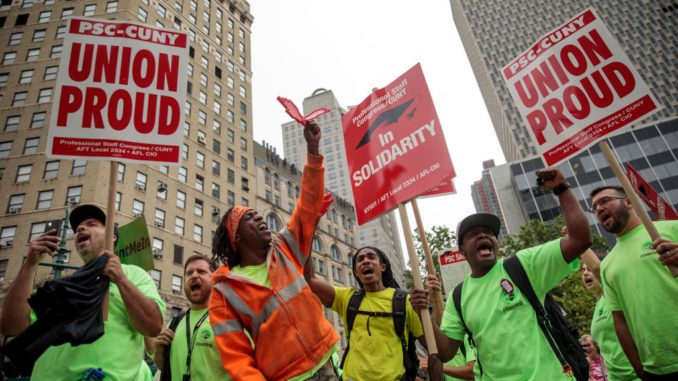 Reprinted from Jacobin by Will Bloom on July 4, 2018.
"The sword hanging over the American labor movement has finally fallen," writes Will Bloom in Jacobin. "After years of near misses, the Supreme Court issued an opinion in Janus v. AFSCME that ruled it unconstitutional for public sector unions to agree with employers to collect agency fees from workers they represent but who refuse to join the union. This ruling overturned a forty-year-old precedent, Abood v. Detroit Board of Education, breaching the core legal principle that courts should be hesitant to reverse prior decisions.
"While Justice Alito's opinion for the Court is deeply flawed, and ignores the many ways the collection of agency fees could be squared with the First Amendment, it does get at a legitimate problem with one of the main conclusions of Abood: that a union's collective bargaining and contract enforcement is somehow nonideological and distinct from a union's 'ideological' activity, such as involvement in elections. This line-drawing between a union's 'political' activity outside the workplace and 'nonpolitical' activity within the workplace — a distinction that has been vociferously reinforced by Abood's backers in both the labor movement and the judiciary — fundamentally undermines unions' efficacy.
"The labor movement's insistence on upholding this distinction between 'ideological' and 'nonideological' union activities has dampened the development of class consciousness — and with it, the development of working-class power — in America's unions. Ironically, this has created a labor movement that, when the knives came out, was too weak to stop Janus. …