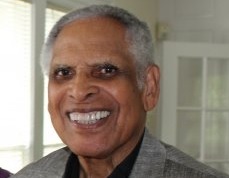 Reprinted from The Hollywood Reporter by Rhett Bartlett on August 24, 2018.
John Carter, the pioneering African-American film editor who worked on The Heartbreak Kid, Paper Lion and Barbershop and shaped powerful documentaries about Martin Luther King Jr. and Solomon Northup, has died. He was 95.
Carter died August 13 at his home in White Plains, New York, his daughter Carolyn told The Hollywood Reporter.
The first African-American to join the American Cinema Editors society, Carter co-edited the George Plimpton football tale Paper Lion (1968); Lean on Me (1989), starring Morgan Freeman as real-life high school principal Joe Clark; The Karate Kid Part III (1989), one of three features he did with director John Avildsen; and Men of Honor (2000), about African-American Navy diver Carl Brashear.
His editing skills also were on display in the Marlon Brando and George C. Scott mystery The Formula (1980); in The Heartbreak Kid (1973) and Mikey and Nicky (1976), both directed by Elaine May; and in the Ice Cube comedies Friday (1995) and Barbershop (2002). …